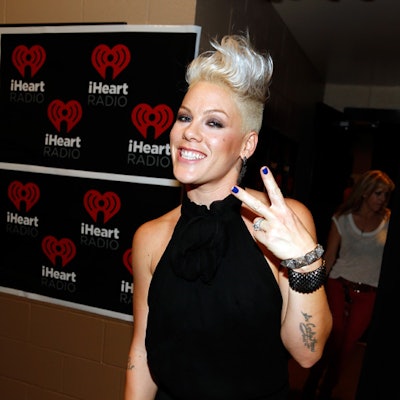 Pink thrilled the Las Vegas crowd during the September 21, 2012 iHeartRadio Music Festival when she shared the stage with Gwen Stefani and No Doubt to perform "Just a Girl" wearing electric blue Minx nail fashion.
West Hollywood-based celebrity nail guru Naja had styled Pink's nails for the VMAs earlier in the month, when the singer selected a custom Minx Silver Lips design to match the giant lips she perched on while performing "One Last Kiss".
For the IHeartRadio show in Las Vegas, Naja flew in from Los Angeles and rushed to Pink's hotel to make a 4:00 pm call time, as the singer was due on stage at 7:00 pm.
"Pink requested something bright blue and with a lot of sparkle," said Naja, "so I showed her some options but she immediately picked the Blue Lightning Minx." Unlike nail polish, Minx is a flexible film applied by heat and pressure, and is able to deliver a high impact, chrome metallic look that stars including Beyoncé, Rihanna, Lady Gaga and Katy Perry have flashed on the red carpet, in music videos, and on stage.
"The metallic Minx is great for the stage," confirmed Naja. "Blue Lightning really picks up the light, and Pink loves the ease of nail coverings. She always requests them as there is so much going on during 'glam time' that it is really valuable to have a nail option that does not need drying time."
[Image: Isaac Brekken/Getty Images Entertainment]