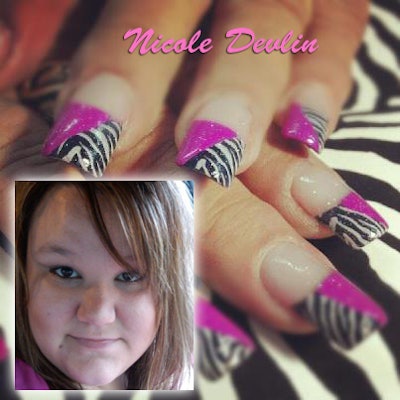 Welcome to NAILPRO's NAILED DOWN where we "nail down" the details of selected nail design artists from our User Galleries.
This week we visit Sweet Home, Oregon.
Meet Nicole Devlin:
Where do you work?
I am the owner of Envy Nail Salon
How would you describe yourself?
I would have to say I am a person who has always had a passion for arts and creativity. I am a perfectionist. I love to create one-of-a-kind nail art for my clients or create a vision they have that they can wear and show off on their nails.
Tell us about how you got started in the nail industry.
I was introduced to the nail industry at a young age by my grandmother. I always had the biggest nail polish collection and the most awesome nails in school (courtesy of my grandmother). After high school, I took a few college classes at the local community college, became a CNA, and just could not decide what I wanted to pursue. So I decided to enroll in the local beauty college and follow my passion for nails and art. Today I own Envy Nail Salon and am loving every minute of it.
What/Who inspires your work?
I was most definitely inspired by my grandmother. I was so intrigued with the whole nail process and could sit there for hours watching her. I absolutely loved to sit there and watch what she could create with a nail art brush or airbrush. It was amazing. I just knew it was something I wanted to do.
Are there any tool(s) you can't live without?
That would most definitely have to be my favorite acrylic brush, nail art brushes, and E-file!!
Do you have a favorite technique or style?
I absolutely love doing nail art free hand and most of my work is done that way. I also LOVE zebra, "bling" (aka glitter), and bright colors. I am learning to love free forms and the reverse method also.
What is your craziest/funniest nail story?
I was doing nail art for one of my clients. I was shaking up one of my new striper bottles only to have the end of the bottle break off and polish go everywhere. It was the craziest thing ever! We had a good laugh over it.
What tip can you offer to other nail technicians?
Follow your passion and don't be afraid to go outside of the box. You never know what you can create! I believe the possibilities are endless.
Anything else you'd like to add?
Education… Education… Education! It is very important to stay up on new products, trends, and services to help you become successful in the nail industry. Good Luck.
You can find Nicole Devlin on the web:
In the NAILPRO User Gallery: Nicole Devlin Nails
Facebook: Envy Nail Salon
Click here for more Nailed Down! interviews »
Would you like to be featured in NAILED DOWN? Post images of your nail art to our User Gallery. We'll be highlighting outstanding artists based on those submissions! (minimum six pictures to qualify for consideration) NAILPRO reserves the right to edit submissions for length, grammar and clarity.