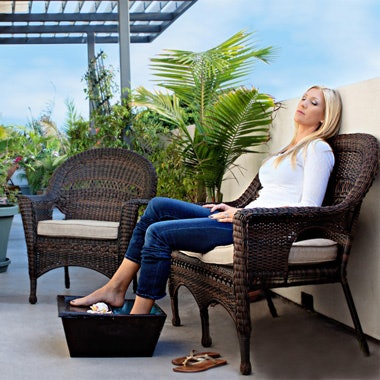 Emi Wayner has always been a fan of getting her nails done, so it was only natural that in June 2011 she followed her true calling and opened a nail boutique. As a result, Zenka Nails in Manhattan Beach, California, was formed. The tranquil nail haven shares space with Trilogy Spa and is the first salon of its kind to bring the latest nail trends to this small beach town while still maintaining an everybody-knows-your-name atmosphere. The combination of two words—zen meaning relaxing and ka meaning gorgeous flower—denotes the Japanese Zen of Zenka.

5 Reasons Why We Think It's Fabulous
1. It's created a tropical getaway in a Los Angeles suburb.
True, the nearby beach doesn't hurt, but Zenka Nails amps up it's exotic ambiance by creating a tropical paradise on the salon's roof. Comfortable spa beds and lounges, wide umbrellas and, of course, that view of the sparkling Pacific draw customers in as the perfect place to host bridal showers, birthday parties and corporate events. Want a little more privacy? The tranquil spa room fits two people and embraces the tropical theme as well, right down to the scrubs, lotions and oils—all handmade from Hawaiian ingredients.
2. Community and local businesses are embraced.
"In this economy, partnering with your neighborhood is key," says Wayner. "Manhattan Beach business owners all help each other out." Case in point? When Trilogy Spa started falling behind in the nail department, Wayner convinced the owners that her nail salon would be the perfect addition—for both of them. Now they host fundraising events together and are active supporters of local schools, cancer research organizations and the Humane Society.
3. Educating clients is just as important as an informed staff.
"We want our clients to be informed, but still have a relaxing time," says Wayner. That's why first-time gel polish and Minx customers receive an info sheet on the service—including removal procedures. The six nail technicians at Zenka Nails don't have to worry about turning their client's blissful manicure into a tutoring session, and clients can study up on the best ways to take care of and maintain their nails at their own pace.
4. The salon controls social media—not the other way around.
With all of the social media platforms used for promoting a business, daily updates, tweets and photos can become a job in itself. But Wayner, who recently became a new mom and has her hands full, doesn't let social media control her day. "I use Hootsuite to manage all our platforms and schedule posts," she says, referring to the leading social media dashboard. Facebook, Twitter and Pinterest updates are scheduled for 7 a.m. and 6 p.m. to ensure that they will be seen at peak Web surfing hours. And they're definitely being seen: "We've stopped making [nail art] samples because now our clients refer to our Pinterest photos," explains Wayner.
5. It's a big fish in a little pond.
Not only was Zenka Nails the first salon in Manhattan Beach to offer 100 percent gel polish, but it was also the first to introduce Minx to the community. "At first we thought the area might be too conservative," says Wayner. "But our clients love Minx—especially on their toes." For those who might be hesitant to try the popular appliques, Zenka offers "Splash of Minx," a basic manicure that includes the application of Minx on the ring fingers. The salon is also on top of the latest organic products, offering Priti NYC soy-based polish remover and cuticle oil for those wanting eco-friendly options.
Year Founded: 2011
Founder/Owner: Emi Wayner
Website: zenkastyle.com
Address/Phone: 451 Manhattan Beach Blvd., B108, Manhattan Beach, CA 90266; 310.374.3600
Hours: Open 10 a.m. Sun.-Thu., Open 9 a.m. Fri.-Sat.
Most Requested Service: Gel manicures
Signature Treatment: Spa Indulgence Pedicure