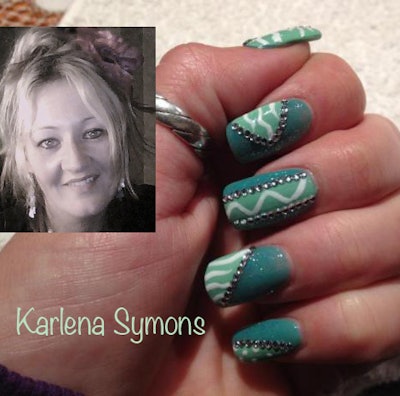 Welcome to NAILPRO's NAILED DOWN where we "nail down" the details of selected nail design artists from our User Galleries.
This week we visit Christchurch, New Zealand.
Meet Karlena Symons:
How would you describe yourself?
I'd describe myself as a person who loves to make women feel great and confident about themselves by having unique nails. l'm bright, outgoing, bubbly, creative and a perfectionist.
Tell us about how you got started in the nail industry.
I grew up with a mother who always had long, beautiful, painted nails, so I had an interest in nails from a young age. I started my nail art after getting my nails done at a salon. I bought my own paints and brushes and watched a lot of YouTube to get the techniques. I started with my own nails and soon friends and family were wanting my art. It grew from there.
What/Who inspires your work?
YouTube, NAILPRO, and nail art groups are a great place to learn and get ideas. Soon you are coming up with your own designs.
Tool(s) you can't live without?
Brushes, toothpicks, and a great top coat.
Favorite technique/style:
My favorite is learning a new technique, and learning more is my style.
What is your craziest/funniest nail story?
The stories people tell you are always fun to listen to.
What tip can you offer to other nail technicians?
Start with easy things first. Dots are great, especially having one colour that pops off the nail (black and white great for this). Just try and try again. Watch videos and have fun with every thing you do. Learn the point when a nail is finished, as it is very easy to go too far with a design.
Anything else you'd like to add?
It really helps a lot to know what colours go together. Sometimes you only need two colours and then add white or black. The colours make or break a lovely nail.
You can find Karlena Symons on the web:
In the NAILPRO User Gallery:
Click here for more Nailed Down! interviews »
Would you like to be featured in NAILED DOWN? Post images of your nail art to our User Gallery. We'll be highlighting outstanding artists based on those submissions! (minimum six pictures to qualify for consideration) NAILPRO reserves the right to edit submissions for length, grammar and clarity.