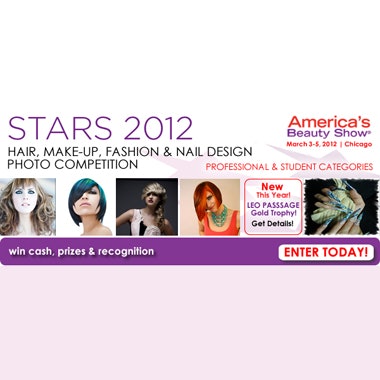 The Stars 2012 Photo Competition is your opportunity to shine! Professionals and salon teams may enter hair, makeup and fashion categories for a chance to win The Leo Passage Gold Trophy in the 2012 Stars Photo Competition! Cosmetologists Chicago celebrates the life of Pivot Point founder Leo Passage – a member, hairstylist, entrepreneur, international competitor and dear friend; Cosmetologists Chicago will annually award The Leo Passage Gold Trophy to the top cumulative winner in the Stars Photo Competition. Crafted after the prestigious Original Gold Trophy of Cosmetologists Chicago's Midwest Beauty Show, The Leo Passage Gold Trophy will be engraved with the name of each year's winner and at Pivot Point headquarters. Each Gold Trophy recipient will receive a replica of the trophy plus $1,000 and Cosmetologists Chicago Lifetime Membership!
Deadline:
All entries must be received by Friday, January 27, 2012
Fees (per entry):
Professional Competition (3 categories to choose from):
$75 for Cosmetologists Chicago members
$125 for non-members
Nails Competition:
$35 for INTA & CC members
$50 for non-members
Student Competition:
$25 for Cosmetologists Chicago student members
$55 for student non-members
For more information visit America's Beauty Show.