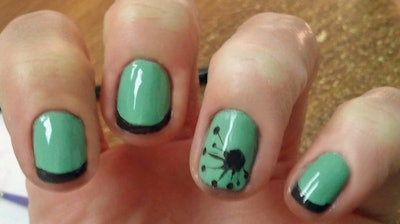 I avoided Halloween candy prior to October 31 by keeping busy with work, upcoming plans and staying AWAY from the inviting and pretty bowls EVERYWHERE. Alas, the joy of my favorite holiday came to an end and left me emotionally eating everyone's leftover candy. I even brought a bag of it to work in order to escape the temptation and found myself "needing to meet" with my boss about every hour on the hour. You can guess where my candy ended up, right?
Anyway, I mention this because I am coming down from my sugar rush (!) as I write and my nails remind me of another favorite sweet—Mint Chocolate.
I used Nubar's Edgy Umber and Vogue Vert from their Polished Chic Collection.
Have a GrEaT weekend everyone. I'm heading to Baskin Robbins!
—Megan James