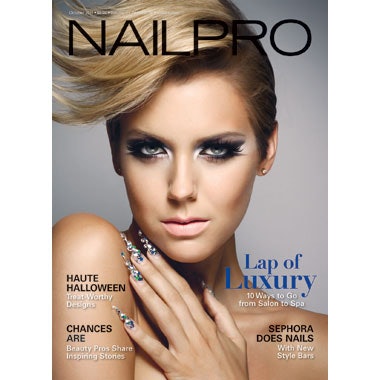 See what's in the October 2011 issue of NAILPRO! Our digital edition offers you everything in the print magazine, along with live hyperlinks to products and advertisers as well as video and audio!
Download the NAILPRO app from the iTunes store, and read the digital edition on your iPod, iPhone or iPad.
FEATURES

Techs share stories about enriching their clients' lives. »
Caring for Clients

Gain spa appeal with these simple tricks for revamping your salon.  »
Spa Fancies Fulfilled

Don't get caught in a career rut. Use these tips to stoke your passion. »
What's Next?

Morph your clients' services into a ghastly good time with these ghoulish products. »
Trick or Trimming

WATCH: Nail artist Kirsty Meakin remembers Michael Jackson's legacy with striking nail art. »
Man in the Mirror
WATCH: The Making of Our Cover: "Seeing Spots" »
Behind the Nail Pros
COLUMNS

Take the feather trend from hair to nails with this tutorial. »
Workshop

Offer clients bootiful Halloween art. »
Art Gallery

3-D nail wraps from Dashing Diva and pedicure products from Salt of the Earth. »
Pro Talk