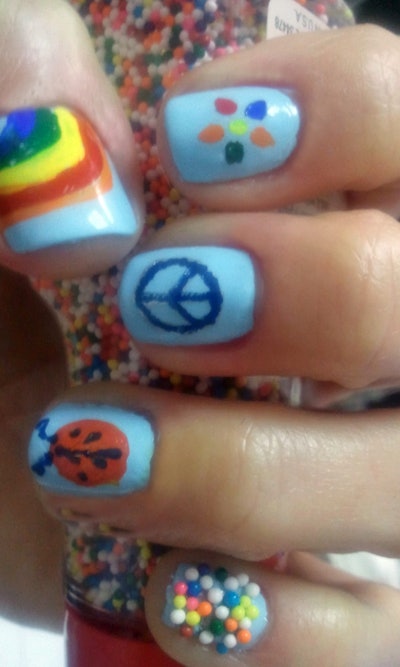 Here's just a couple of reasons why I love NAILPRO's fun staff. When Stephanie Mills saw this manicure she burst into song—"One of these things is not like the other. … " And Bekki Roth reminded me that subtlety is for sissies! This manicure was so fun, I didn't care that a cat decal from Backscratchers ended up on my pinky fingernail and perhaps, didn't quite blend with this genre. Nail art is to create and have fun. We all know this. My summer picnic themed mani was just that. (And cats attend picnics. I know because I have cats.)
I used Nail Glam in baby-blue from Pop Beauty as my base, acrylic paint from Art Nails, Republic Nail's Long Pens and EZ Art Polish Stencils.
And then my favorite part was mimicking the candy nails from NAILPRO's June 2010 cover, created by leading industry expert Carla Collier. To originate your own sweet style, check out our Behind the Scenes June 2010 for some pro tips.
Ps. For your gel-shy gals, you can create the same candy coated look with a brush-on resin nail glue. It works, promise. And so does having fun at your job. When clients recognize this, not only will you start generating better designs, but also a full appointment book. That I guarantee.
—Megan James