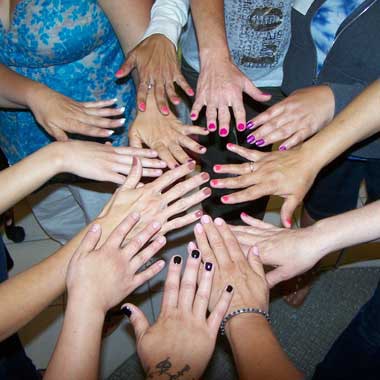 Mother's Day offers the opportunity to remind moms how special they are and how much we appreciate all they do. In honor of Mother's Day, on Friday May 6, ORLY International gave 23 moms from Single Mothers Outreach a well-deserved day of pampering. The moms visited ORLY headquarters in Van Nuys, where each attendee enjoyed a continental breakfast hosted in the studio lounge and received a manicure in OLRY's in-house spa. The day of relaxation also included a visit from ORLY President Jeff Pink. Every mom walked away with a bag filled with a mix of top ORLY and SpaRitual products and an $89.00 gift card for Kohl's.
Event attendees expressed heartfelt gratitude, as many had not experienced a guilt-free day of pampering in quite some time. ORLY employees also had a deep appreciation for the event as an opportunity to share their talents with a deserving group of moms.
"We need to live a life that leads, always expanding beyond meeting our own needs and extending our skills to benefit those who are less fortunate. At ORLY we are working on all levels, from the warehouse up to President and CEO Jeff Pink, to develop meaningful programs that benefit people in our community," said event organizer and Customer Care Manager Orlando Flores.
Single Mothers Outreach was founded in 1995 as a support and resource for single mothers struggling through the effects of divorce or the death of a spouse. Since then, over 1,700 families have been served.
The ORLY team had just begun to create a Mother's Day event when they discovered Single Mothers Outreach. ORLY employees jumped at the chance to plan an event that would benefit single moms. Numerous employees took an active role in making the event a reality by donating money for the gift cards, donating their time to execute the gathering or covering for other employees while they participated in the event during the workday. ORLY plans to continue to work with Single Mothers Outreach on future events and initiatives.