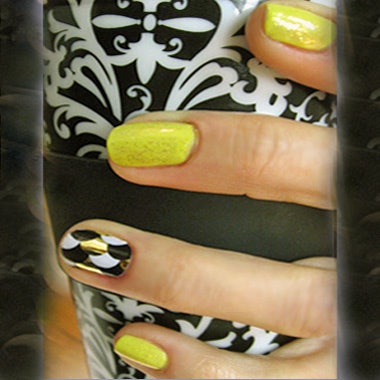 The modern trend of individualizing a lone ring finger has emerged again with a kick and a whole lot of glitzy, vivid nail art.
I was intrigued by this look when I noticed it on colleagues and realized it works best with an uncomplicated effect. You don't want it too obnoxious because employing your creative manicure as a glam accessory stands on its own.
I've heard this trend is sometimes worn to manifest good luck. Another story is that single women wear it to declare their independence: from obligation, expectations and/or control.
Whether you're single or not, if you're a self-ruling woman rocking this chic style, you most certainly stand out, not alone. And all fashionistas know that the next good thing is just around the corner!
—-Megan James
To Create This Look: Polish with Enlightenment from Précision. Top with Sheer 24K Sparkle from CND (coming out in July). Ring finger is adorned with a Minx wrap in Golden Scales.