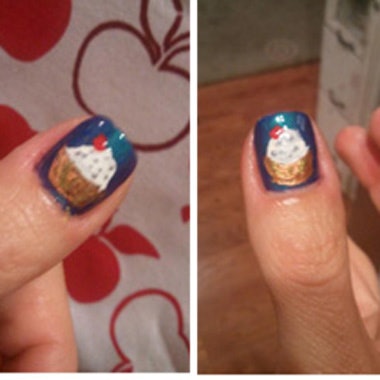 Given it's practically swimsuit season and my recent observance of Cinco de Mayo, I felt compelled to allow sweets on my nails and not my lips.
I sometimes get carried away with the selection of nail art we have in the product closet at NAILPRO. As you see in the photos, I have a variety of foods and colors going on. I couldn't decide between desserts, shapes or fruits so I did them all: vanilla frosted cupcakes, grapes, strawberries, cherries and a heart.
It was a lot easier than I thought to paint objects on my nails because I used nail paint and the #5 Brush from the Master Nail Art Kit from Art Nails. In addition, I used the color changing polish In The Mood in Guilty and Nails Alive 24 Hour Hardening Treatment. How could I forget? At the very end, I topped it all off with—what else—glitter, from Real Gold.
My "designs" remind me of a kid in the kitchen who decides to combine whatever is in the cupboards to create a "super surprise dinner." Just like the kid in the kitchen, I'm having fun experimenting. And just like the "surprise" meal, my nail cupcakes won't be eaten—making the bikini a little less threatening to get into this summer.
—-Megan James