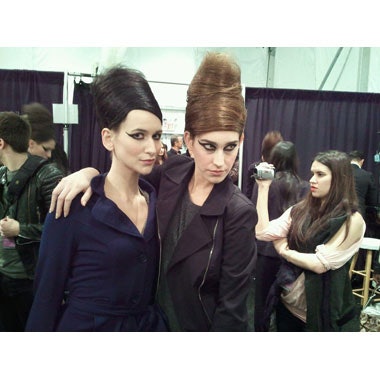 For the fourth consecutive time, the China Glaze teams fashioned nails for the Tadashi, Ivana Helsinki and Richie Rich shows.
Tadashi models wore the designer's all-time favorite again, sheer gauzy pink China Glaze Innocence. Manicurist Josephine More said that it was perfect for accenting the understated elegance and angelic look of the Fall 2011 collection.
Ivana Helsinki's collection featured rich velvets, knits, feather prints and chunky boots. The mod vibe was complete with models sporting charcoal black eyeliner and beehives, complemented with clear nails courtesy of manicurist Indigo Smith and Seche Vite Fast Dry Top Coat.
The Richie Rich show was another animal though! The designer, known for his outrageous club wear and barely there ensembles, had models wearing strong nail looks. Manicurist More created "punk looks" using China Glaze Midnight Mission with China Glaze Devotion, Nova and Solar Flare on the ring finger–a signature look of Richie Rich shows. She also created "elegant looks" using China Glaze Lubu Heels with China Glaze Passion and Medallion on the ring finger. The men also rocked their own personalized nail looks with China Glaze Devotion layered with Nova and China Glaze Liquid Leather on the ring finger.
Images courtesy of China Glaze.