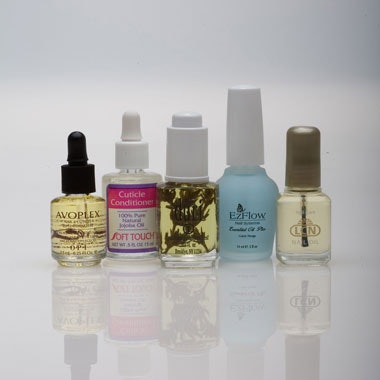 Continuing the natural nail care, retail cuticle oils to your clients. During the service, explain how continued cuticle care–including daily application of oil!–makes nails more flexible, preventing breakage in the long term.
OPI • 800.341.999 • Avoplex Nail & Cuticle Replenishing Oil Antioxidant vitamin E combines with avocado, sunflower, sesame and kukui nut oils to hydrate cuticles and nails.
Soft Touch • 800.237.7229 • Cuticle Conditioner Enhance skin's cellular regeneration with jojoba oil in this hypo-allergic formula.
---
Post your nail art in our Users' Nail Art Galleries » and share, vote or link from your own nail art blog! Don't miss our  digital edition for step-by-step nail art » and check our website's nail art archives » for nail art you might've missed!
---
Duri • 718.209.7070 • Herbatherapy Natural herbal extracts and oils deliver nourishing moisture for increasing nail flexibility and softened cuticles.
EzFlow • 800.621.9585 • Essential Oil Plus Offer your clients this oil, which uses natural botanicals to penetrate deep into skin to encourage healthy nail growth.
LCN • 800.86.NAILS • Nail Oil Nails get treated luxuriously with this moisturizing oil with vitamins A, E and F.