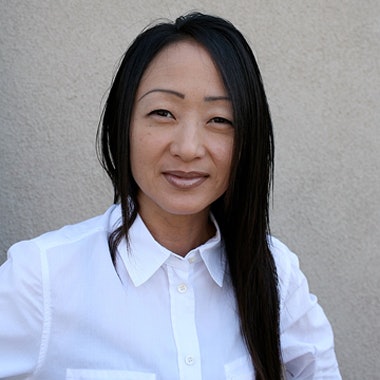 New to the NAILPRO competition team—and just in time for the NAILPRO Cup—is Shiori Higashi. Competition director Jewel Cunningham and head judge Carla Collier met her at the IBS Las Vegas show in June and thought her experience and personality would be a great addition to the competition lineup. "Our experience with her in Las Vegas this year was fantastic and we all fell in love with her," says Cunningham. "We are looking forward to a great partnership."

NAILPRO had a chance to talk with the new Floor Sage. See what she had to say!

NAILPRO: What made you decide to become a nail technician?
Shiori Higashi: I was inspired to become a nail technician because of my mother. In 2003 she was diagnosed with cancer and, as a result of her treatment, had to stay in the hospital for weeks at a time. My mother was always someone who spent lots of time gussying herself up to go out or visit friends. But being stuck in the hospital, she had no opportunity to do that and that made her uncomfortable and sad. I thought, at the very least, a manicure would make her feel better and would make her more comfortable about hosting guests. Unfortunately, I could not find any nail technicians that would visit the hospital due to unfamiliarity and fear of risk and liability in dealing with the hospital. This void provided enough encouragement for me to learn how to do manicures. As time went by, I became so passionate about the craft and the various nail systems that I eventually found myself enrolled in a school to become officially licensed.

NP: How long have you been working as a nail tech?
SH: I have been a licensed manicurist for about one year now but I have been studying and practicing on my own for over five years.

NP: What do you think are the benefits of nail competitions for techs and the industry?
SH: Nail competitions are very important and contribute to improving the overall nail industry. First of all, nail competitions provide a benchmark for nail artists to strive for. Every industry has a Tiger Woods. Who is our Tiger Woods? The winner of a nail competition. The nature of competition brings out our best and all nail artists stand to improve as we crown new winners at Nailpro competitions. Winning nail artists benefit through personal recognition, salon recognition and a high satisfaction for personal achievement. There are also many business opportunities that can arise from winning a nail competition. Some winning nail artists have been granted sponsorships, travel opportunities and are asked to become a spokesperson for other nail industry partners. Competitions in nails are just as important as the Indy 500 is to the auto industry.

NP: How do you think you'll handle your new role as Nailpro floor sage? Are you excited? Nervous? How are you preparing?
SH: I hope to handle my new role as NAILPRO Floor Sage with helpfulness, fairness and professionalism. I have spent much time studying the rules and regulations as well as watching other competitions in order to prepare. I have also attended workshops and seminars to further my knowledge on the different products, techniques and styles that are the most cutting edge in the industry. Many of the competing enthusiasts are from Japan or Korea, so I have also spent a lot of time practicing how to communicate the rules so that all contestants have a fair understanding of the competition guidelines. I am a bit nervous, but it's the competitors who are really nervous, so I need to keep my cool and not be a distraction to them!

Thanks so much, Shiori. We are looking forward to working with you throughout the 2010 competitions!