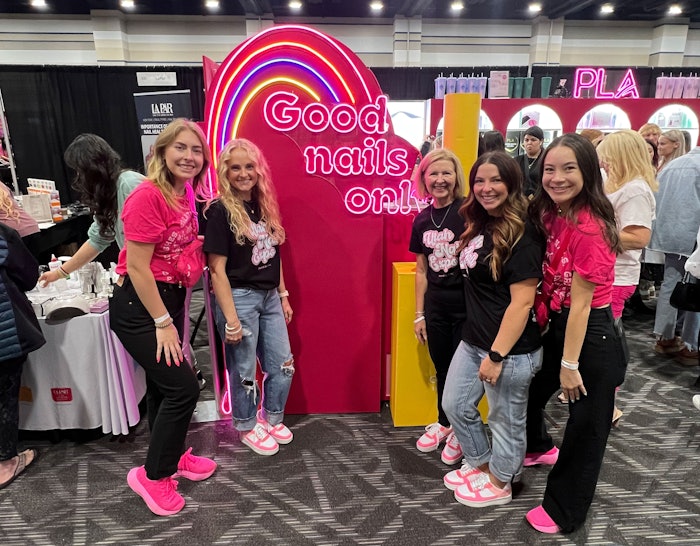 Nailpro attended the Utah Nail Expo and had the best time! 
Held yearly, the Utah Nail Expo is the largest nails only trade show for licensed nail professionals. The Utah Nail Expo is an eventful weekend filled with vendors, competitions, raffles and classes taught by your favorite nail artists. The expo features nail companies from all over the United States and Canada who attend to give you the latest products and trends in nails. The show day features on-going demonstrations, samples and lots of shopping!
The first day of the expo was held on Friday, September 23 and was jam packed with optional hands-on education. 
Brands like SoGel Nail Supply, Luminary Nail Systems, Magpie Beauty, Fuzion Gel and Glitz Accessories and Such taught classes on hard gel and multi-flex application, nail prep, tips for preventing nail allergies and more. Teryn Smith (@shape.with.teryn) and Lori Halloway (@themeticulousmanicurist) also taught classes that offered attendees business and pedicure tips!  You can visit Utah Nail Expo's website to see the full list of classes offered at this year's show. 
Then, on Saturday, September 24, the show floor opened to VIPs and attendees, with VIPs receiving an extra hour to shop before the show floor opened to general admission attendees. 
Brands like Luxapolish, Madam Glam, Paris Lash Academy, Light Elegance and more showed off their latest and fan-favorite products for attendees to purchase and restock on. You can see the full list of exhibitors at this year's show here.
There was also plenty of opportunities to see demos on the show floor. La Par showcased proper application of their nail tips, gel builder, glitter gel and chrome. 
During the show, attendees could also enter a raffle to receive items donated by the exhibitors. The winners of the raffle were announced in two waves. The winners were announced live on Utah Nail Expo's Instagram page.
The winners of the Utah Nail Expo Competition were also announced live on the show floor. Competitors could submit art for any of the four following competitions: Handpainted Journey, 3D Underwater, Handpainted Salon Art and Fantasy Nail. You can see the announcement of the winners here.
Nailpro was so grateful to attend this year's show and see so many smiling faces! Some of the exhibitors took a moment out of their busy schedule to say hello to Nailpro. Which brands can you spot?