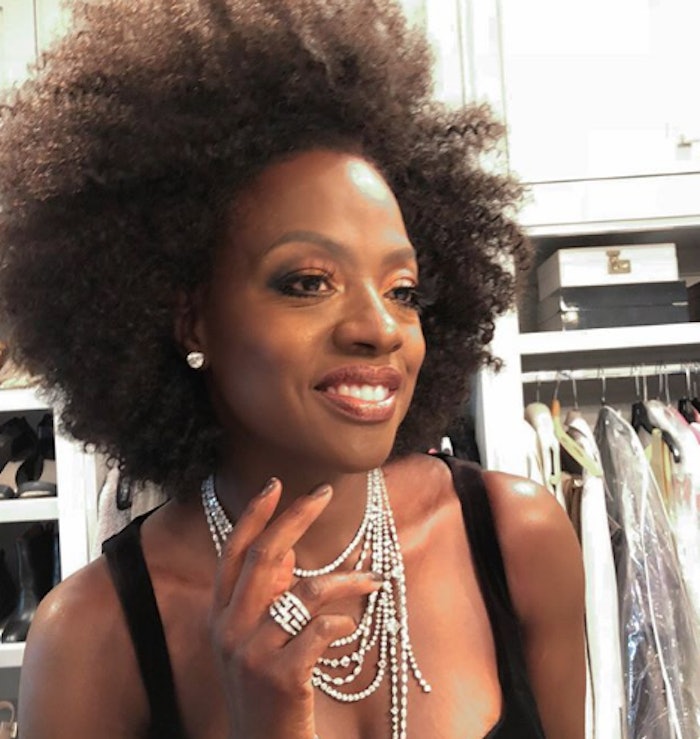 With most of the 2018 Golden Globes attendees participating in the #TimesUp initiative wearing all-black ensembles, we were interested to see how celebs and their techs chose to elevate their looks with manicures. If you're curious to know how to the stars dressed their tips, keep scrolling to see our favorite looks and find out how each leading lady accessorized her nails and learn the nail pro and brands behind the looks.
OPI's Tom Bachik gave Heidi Klum a Black Onyx manicure in support of #TimesUp.

Actress Kerry Washington also wore a black set with added sequins on the accents. Nails by Bachik.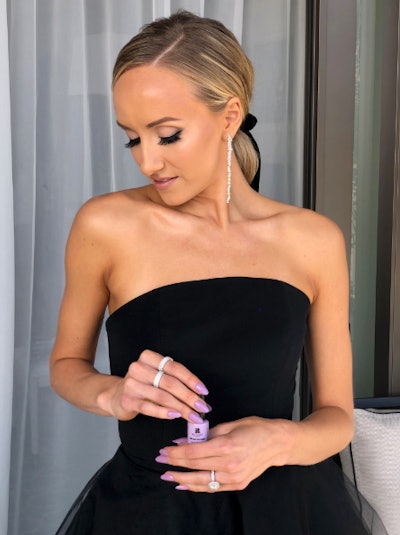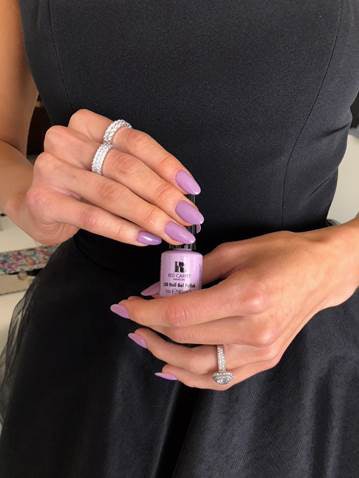 Olympic gold medalist Nastia Liukin walked the red carpet wearing Red Carpet Manicure LED Gel Polish in Violetta Darling. Celebrity Manicurist, Mar Y Soul helped Nastia choose Red Carpet Manicure Violetta Darling, a romantic light purple cream gel polish, to  perfectly complement her black Christian Siriano ball gown dress.

Golden Globe Nominee, Emma Stone, walked the red carpet dressed for the occasion with  a simple, yet elegant manicure, as the perfect accessory. Celebrity Manicurist, Emi Kudo, selected  LeChat Dare to Wear Polish in Beauty Bride-to-Be, a light beige-pink with a cream finish, for Emma's nail look.  "This color was my first suggestion for her natural nails. She has very pale porcelain skin, so any darker shades can look too dark for her skin tone. I thought this shade by LeChat, blends in her skin tone, and makes her fingertips appear extra long," Kudo said. In order to keep a natural looking nail, Kudo kept Emma's nails short and round. She focused  on buffing the side of her fingertips to keep them smooth for a more natural looking manicure. For a more opaque finish, Emi used two coats of LeChat Dare To Wear Beauty Bride-to-Be and additionally, gave Emma a matching pedicure to complete the look. 
Actress Saoirse Ronan worse Essie in Wicked. "Adding to the message behind the black dress, we wanted to take it a step further with Saoirse's nail look. Essie's cult-favorite, Wicked, a striking bold shade was the perfect finishing touch to show her support for the movement on the red carpet this evening," said celebrity manicurist, Michelle Saunders.
Actress Gal Gadot wore Essie in A-List.  "We kept Gal's nails classic and feminine using Essie's A-List, an award-winning, creamy red, for a pop of color against her strapless black gown and tuxedo topper," said celebrity manicurist, Tracy Clemens.
Actress Debra Messing wore Essie in Licorice. "Debra knew she wanted extremely glossy, black nails this evening. To get the look, we started with two coats of Essie's Licorice, a creamy, jet black, followed by Essie's Speed.Setter top coat for ultra-high shine. To finish, we added a tiny silver stud to each nail for a bit of edge, complementing the impeccable beadwork on her Christian Siriano pant suit," said celebrity manicurist, Elle Gerstein.
Actress Viola Davis wore Essie in Seeing-Stars. "Essie's Seeing-Stars, from the new desert mirage collection, added a hint of golden shimmer, playing off her sparkling diamonds and glowing, bronze makeup," said celebrity manicurist, Julie Kandalec.

Celeb manicurist Kaith Mosh used JinSoon in UBE for comedian Chelsea Peretti.

Celeb manicurist and NAILPRO former cover star Whitney G. used Chanel in Vamp for Madeline Brewer.

Celeb manicurist used Chanel in Ballerina for Katherine Langford.

Nominee Laurie Metcalf wore Chanel nail polish applied by celebrity manicurist Sarah Chue.
Jenna Hipp used one of her nude shades for actress Emilia Clarke.
Model and it-girl, Hailey Baldwin, wore NCLA in Bed to Bath at 7pm on a Friday,  from the brand's collaboration with fashion designer Laina Rauma. The nails were done by celebrity manicurist Mel Shengaris, whose clients include Kendall Jenner, Kylie Jenner, Rachel Zoe and more. 
Nail pro Casey Herman used Zoya in Dot for actress Jessica Biel.
What was your favorite nail look from the 2018 Golden Globes? Let us know in the comments below!
-Sigourney Nuñez 
[Images courtesy of Instagram, Getty Images]