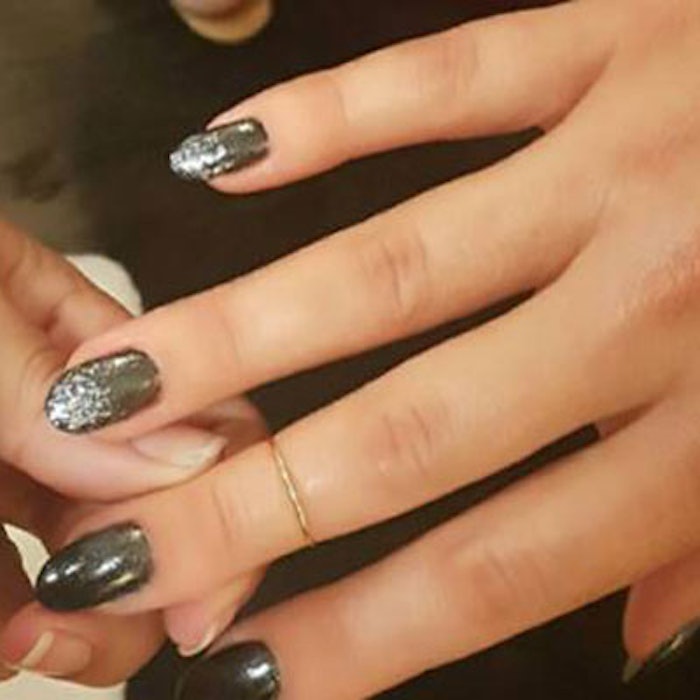 Remember this gorgeous manicure from this year's VMAs? Created by celebrity manicurist Mar y Sol Inzerillo (@nailsbymarysoul) and worn by Ashley Graham, this dark and textured manicure had us feverishly wishing for winter's speedy arrival.
Mar y Soul created this manicure using essie Tribal Text-Styles, a black polish with crushed onyx shimmer, and Frilling Me Softly, a platinum and cobalt glitter polish. For details on how to recreate the look, click here.
We received the opportunity to chat with nail expert Mar y Soul on the inspiration behind the look, tips to working with glitter and the three nail products she can't live without.
NAILPRO: How did working with Ashley Graham come about and how was that experience?
Mar y Soul: Ashley and I have been working together for almost four years now. We first met during a beauty shoot with Carine Roitfeld and it actually was her first nail art manicure! She watched in awe as I hand-painted half moons on the other girls and when it was her turn we immediately bonded. I admired her curvy confidence and sweet personality. We spoke about bras, boys, nail care and so many other things, exchanged info and have been good friends since. It truly is a euphoric experience with you bond with someone on set and stay in touch throughout the years, both of our careers have grown since then and I absolute still love working with Ashley.
Please describe the inspiration behind and mood of the manicure. Was there a certain feeling you were trying to evoke?
I really fell in love with the intricate beading in her Naeem Khan dress and wanted her nails to be a statement while still complimenting her dress. I knew immediately that essie's Tribal Text-Styles would be included in my design as it's the perfect gunmetal for the red carpet. At first, Tribal Text-Styles looks like a dark glitter polish but if you look closely there are tiny micro crystals in different colors mixed with a lot of silver micro crystals and once painted on the nails, it leaves a really cool finish that resembles gunmetal. As many of you know, my chrome nails for Gigi Hadid at the Met Gala started a trend! That being said, you know I love all metallic nails! In regards to the mood, sexy is always what I go for with Ashley so I added a little touch of silver to the tips of her nails for a "frosted tips" ombre look.
How did you create that light ombre effect using glitter? Any specific tools? Techniques?
I created the light ombre effect by using one of my favorite textured polishes from essie's Luxe Effects collection called Frilling Me Softly. This is not your ordinary glitter and luckily it comes in different colors, I went with Frilling Me Softly because it was silver longer pieces of glitter mixed with smaller baby blue circular glitter and that combination reminded me of the thousands of beads that covered the dress. To create this look I did not use any tools. I actually did a technique I've used for years when doing ombre nails: I simply made sure both coats of Tribal Text-Styles were dry then applied Frilling Me Softly along the free edge and painted in a downward motion to a midway point of the nail.
What tips would you give to newly-licensed nail techs working with glitter?
Be patient, make sure to only have a small amount of polish on your brush before applying. The thinner the coat, the quicker it will dry and then you can see where you need to apply more glitter to create your desired look.
What's your favorite way to remove polish at home? Any product recommendations?
There are so many amazing removers now! Some of my all-time favorites are Zoya Remove, Cutex Advanced Revival Remover Pads, Formula X Delete All and Kiss All-in-One remover. When removing your glitter polish, don't forget to be patient. You can either do all five nails at once or soak a piece of cotton or gauze, press it to your nail for a couple of seconds and pull off the polish in its entirety. Trick works every time and whether you're behind the scenes or at home, removing glitter shouldn't be a headache.
What are some minimalist, yet glamorous nail art designs you'd recommend for new or busy nail techs?
You can always practice with linear nail art, graphic negative space, marble nails, a dotticure or ombre nails.
What was your favorite part about this manicure?
My favorite part was seeing Ashley's eyes light up because she loved it so much!
If you were stuck on an island and could only bring 3 nail products with you, what would they be?
Nail file, foot file and cuticle oil.
Since her start in the beauty industry in 2003, Mar y Soul has since grown to be one of the most requested, most popular celebrity manicurists currently working. Some of her previous clients include Oprah, Gigi Hadid, Giselle Bundchen and Lady Gaga. Follow her at: