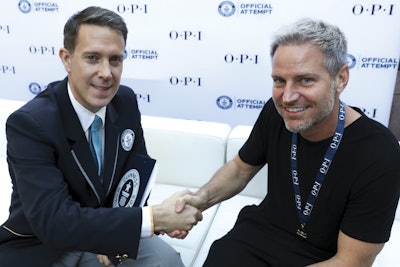 OPI announced the appointment of celebrity nail artist Tom Bachik as the brand's global nail ambassador in October 2017. In his new role, Bachik, who has polished the tips of Jennifer Lopez, Heidi Klum, Selena Gomez and more, will work closely with the OPI education, product development and marketing teams to create au courant nail designs for the North Hollywood, California-based manufacturer. "Tom has been in the nail business for more than 20 years and has experience in so many different roles. His amazing technical skills and extensive product knowledge, coupled with his creative and inventive designs, make him one of the most highly-demanded nail professionals by the fashion industry and Hollywood elite," says Suzi Weiss-Fischmann, cofounder and brand ambassador for OPI. "As the OPI global nail ambassador, Tom will bring more awareness to the professional nail care industry."

Bachik has already put his creativity and expertise to good use in his new position, helping OPI set the Guinness World Record for the longest manicure bar. On the morning of October 21, the OPI team set up a 155-foot manicure bar at the 3rd Street Promenade shopping center in Santa Monica, California, where more than 50 techs gave attendees free OPI GelColor manicures. In addition to the complimentary services, Bachik and actress (and avid OPI fan) Peyton List participated in a meet-and-greet with attendees. By 5 p.m., OPI had officially set the Guinness World Record with more than 500 manicures completed. The exciting event united OPI fans and professionals alike, and set the tone for Bachik's busy year ahead.
How cool is a 155-feet manicure bar? Let us know in the comments below!
This article was originally published in the January 2018 issue of NAILPRO.
[Images courtesy of OPI]