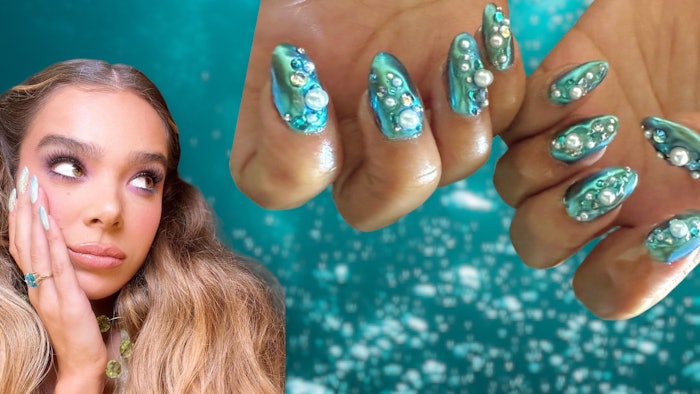 Courtesy of Tom Bachik and Yoko Sakakura
Disney's "The Little Mermaid" recently made its way to theaters, encouraging mermaidcore nail trends to be all the rage. 
If your clients want to go under the sea this summer, you can get inspo with four mermaidcore nail looks that celebrities have been sporting. 
Halle Bailey 
Disney's "The Little Mermaid" star Halle Bailey wore mermaid-inspired nails to the film's Los Angeles premiere. 
Manicurist Yoko Sakakura (@nails_by_yoko) created this masterpiece, which features a shimmer green chrome effect pearl and crystal embellishments on the top, secured by Diamond Gel. 
You can create this look for your clients with a recent tutorial we shared.
Kylie Jenner 
Kylie Jenner recently sported glow-in-the-dark nails in the most gorgeous aquamarine color. 
Nail artist Zola Ganzorigt (@nailsbyzola) created the nail look that Jenner recently shared to her Instagram story, writing "These glow in the dark nails make me really happy."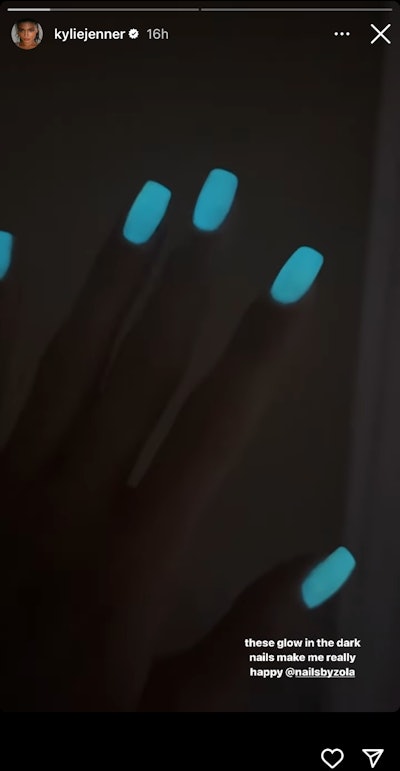 Hailee Steinfeld 
Hailee Steinfeld wore a mermaidcore manicure for the music video of her single, "Coast." 
Celebrity manicurist Tom Bachik (@tombachik) created the fishnet nail look for Steinfeld, captioning it "mermaid chic." 
JT 
Hip hop star JT of the City Girls rocked ocean-inspired nails created by @nailsbymei.
Shimmering with iridescence, the nails sparkled like a seashell on the shore and the addition of beautiful pearl details finished the look perfectly.