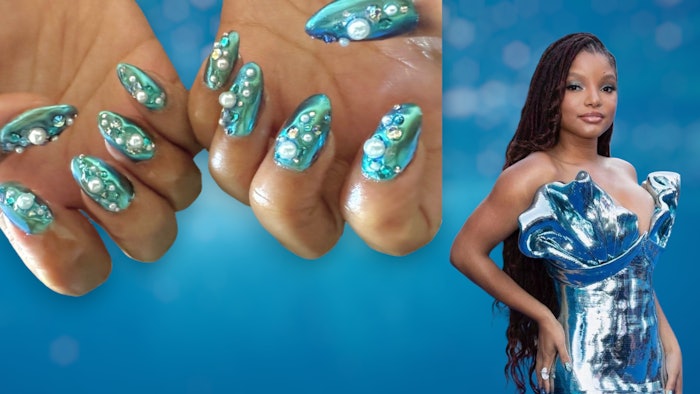 Courtesy of Yoko Sakaura (@nails_by_yoko)
Halle Bailey channeled Ariel at "The Little Mermaid" Premiere in Hollywood with a gorgeous molten blue gown and pearl nails. 
Manicurist Yoko Sakakura (@nails_by_yoko) created Bailey's nail look for the night using products from Aprés Nail.
Follow the tutorial below to recreate this look for your clients.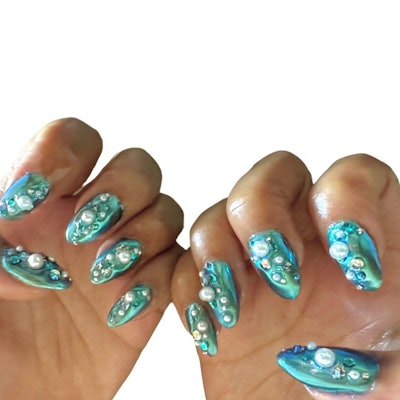 How-To: 
After cleaning the cuticles, apply pH bonder on the nail bed. 
Apply non-acidic gel primer. 
Apply a thin layer of extend gel, then cure with an LED lamp for 30 seconds. 
Apply Gel-X Prep to pre-measured Gel-X Sculpted Round Medium Tips. 
Apply extend gel for Gel-X tip application to the natural nail. Cure for one minute.
Buff edges of Gel-X tip, and wipe with acetone. 
Apply two coats of Secret Lagoon, and cure for one minute after each layer. 
Apply Heavenly Top Gelcoat Angelic to give a shimmer chrome effect. 
Apply a small amount of Diamond Gel to place and secure pearls and crystals. 
Apply a gel top coat for a glossy, shiny finish.