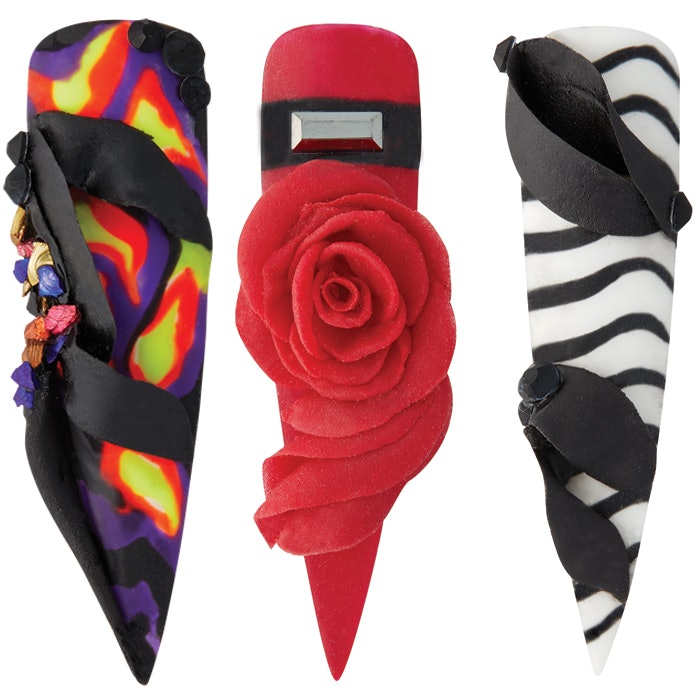 The addition of ruffles instantly feminizes a piece—but don't be fooled: The latest coterie of frilled-to-the-gills wares all have a unique edge to them. Playing with proportions, a cascade of oversized black-and- white striped ruffles on a Marc Jacobs baby-doll dress swallowed the top half of its wearer whole, yet left miles upon miles of leg visible. Swirls of accordion-folded taffeta and larger-than-life rosettes romantically ruffled a blood-red gown at Alexander McQueen, but the addition of black leather combat boots and a corset belt warned away any overtly sweet tones. Sending out a whopping 15 ruffle-ridged looks, designer Mary Katrantzou experimented with patterns and feathers in her ruffles, rippling fabric emblazoned with flames or tinted with watercolor designs and then trimming it with shocks of ostrich plumes. Do the delicate curves and billows of ruffles translate to nail art? Absolutely! Just follow the sculpting prowess of guest artist Honey Phan. Overlay 3-D gel "ruffles" (thin strips that are delicately twisted) on hand-painted nail art designs or sculpt a rosette with an extra twirl of petals to mimic the effect of unfurling fabric.
RELATED: Chelsea King Creates Dark Romantic Tips Inspired by Runway Fashion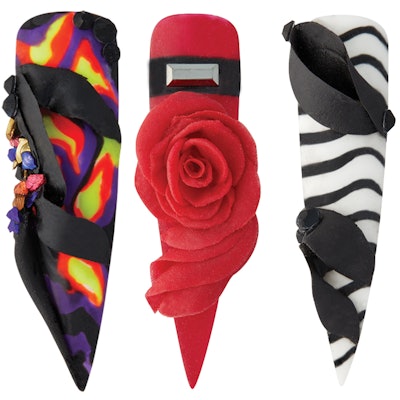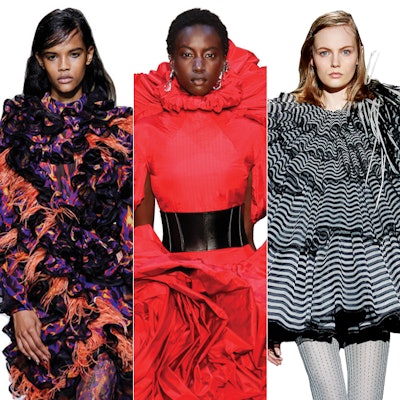 RELATED: Asa Bree Sieracki Creates a Trio of Camp-Inspired Tips Straight from the Runway
Guest Artist: Maryland- based nail artist Honey Phan specializes in creative and 3-D gel nail art designs.
–by Karie L. Frost
[Images: Courtesy of Honey Phan; Armando Sanchez; Getty Images]
This story first appeared in the December issue of Nailpro magazine. To receive the magazine, click here to subscribe.