In a mash-up of classic fashion photography and the Surrealism movement, nail artist Ashley Crowe, also known as @astrowifey on Instagram, creates highbrow designs.
Hand In Hand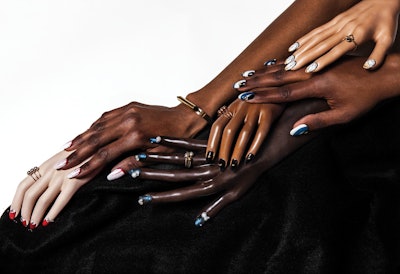 Crowe was inspired by a photograph entitled "Hands, Hands…" shot by 1940s fashion and portrait photographer Horst P. Horst. "This is such a beautiful shot and I wanted to recreate it with more diversity, including the nail shapes," says Crowe, who notes that, like the original image, "we used models and painted mannequin hands to recreate the look." The nails themselves are a take on the work of photographer and painter Man Ray, known for his role in the Dada and Surrealism movements in the '20s and '30s. To wit, in one set of tips, Crowe brushed CND Additives Cerulean Blue on top of CND Shellac Black Pool, followed by a Presto Gel matte top coat. "Doing so creates depth, as in a dark ocean," says Crowe, who also applied clear beads using Young Nails Builder Gel. "I wanted to stack them in odd ways to create the illusion of floating." 
Cry, Baby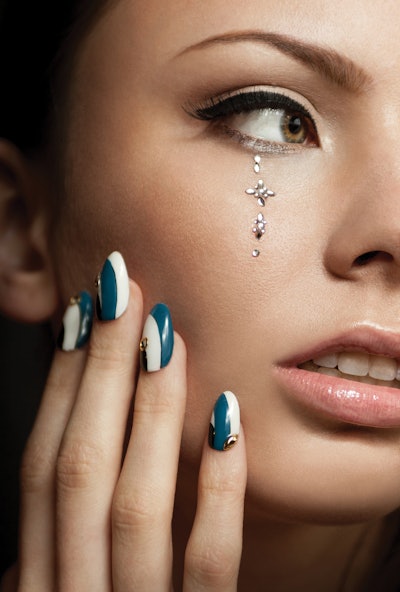 Inspired by the photograph entitled "Tears" by Man Ray, Crowe applied gold beads atop a striking blue, white and black design. "We kept the look [of the model] simple, but added crystals to give the illusion of tears, like Man Ray had in his photographs," says Crowe.
White-Glove Service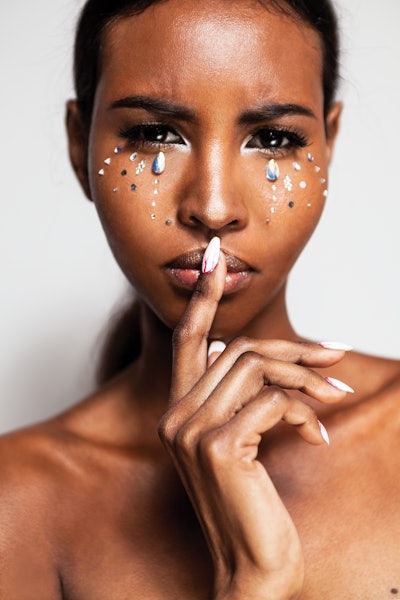 In 1985, Surrealist artist Méret Oppenheim screen-printed fine red veins onto suede gloves, working from sketches made in 1930s Paris. The resulting art piece was entitled "Pair of Gloves" and it inspired Crowe to paint a similar design. "I used a b-r-s Nail Series 405 Long Liner brush and gel polish because I love the consistency of the product," she says.
How do you take inspiration from photgraphy and apply it to nails? Let us know in the comments below! 
[Images: Nails by Ashley Crowe @astrowifey, Models: Deqo, Factor and Maeve, Factor; Photography/Retouching: Brit Woollard; Makeup Artist: Andrea Samuels, Jewelry: Cities in Dust]