Hayley Elsaesser is one of New York Fashion Week's most-anticipated newcomers, and her designs definitely left an impression. The bright, vibrant designs were paired with just as mesmerizing nail art. 
The designer worked together with My Little Pony and looked to China Glaze, who to create out of this world nails. To say the nails were colorful would be an understatement. Led by nail artist Gracie J, the polish brand worked to capture the essence of Elsaesser's collection of bold fashions and bright colors for the nails.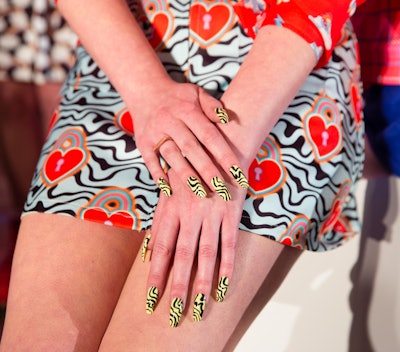 RELATED:  NYFW F/W 2017: China Glaze For Tommy x Gigi
"For me, My Little Pony and Hayley Elsaesser's collection is reminiscent of childhood ambiguity. I was inspired by the carefree and colorful pattern-driven prints. When it comes to nail art I am a big believer of wearing whatever your heart desires," Gracie J said in a press release. "Who wants to be told how to express themselves? Not me!"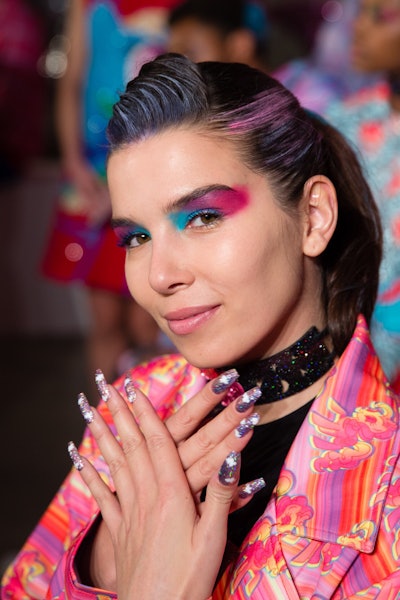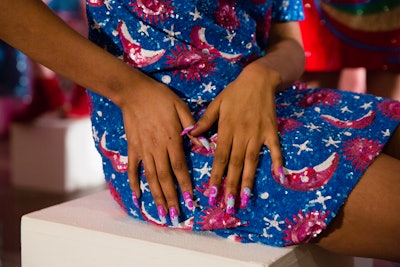 The whimsical designs resulted in playful prints and a vivid palette. Combined with My Little Pony elements, the overall look was electrifying. Each outfit was paired with a variety of nail designs, using combinations of China Glaze core shades, including Pick Me Up Purple, Yellow Polka Dot Bikini and Purple Panic.
RELATED: NYFW F/W 2017: China Glaze For Proenza Schouler
Other shades used on the models:
Turn Up the Heat – Multi-size berry glitter
Lime After Lime – Light bright neon lime crème
Sun Worshipper – Bold orange neon crème
I Got a Blue Attitude – Deep blue-violet crème
Turned Up Turquoise – Neon turquoise shimmer
Can You Sea Me? – Blue and silver glitter blend with large holographic glitter
Flip Flop Fantasy – Neon coral crème
Pool Party – Hot pink neon crème
Liquid Leather – Rich black creme
Do you agree with Gracie J on nail art? Let us know in the comments below and then read more New York Fashion Week coverage.
[Images: Photo courtesy of Jessica Earnshaw]