On February 10, Alanna Wall, founder of Polished Girlz, created two sets of nails for the Raul Penaranda presentation at the Society of Illustrators, as a part of New York Fashion Week. One look was a black set with a gradient glitter accent nail, while the second set was white with a newspaper print and red flower accent nail. Here, we have the tutorials to mimic the look from the show.
RELATED: Polished Girlz And Orly Celebrate 2nd Annual Ball
Black set:
Using Willa by Zoya, create full coverage black nails.
Use the ring finger for the accent, featuring a gradient technique using Azature Red, applied from the mid nail to the cuticle.
Once dry, select octagonal glitter from OPI Pirouette My Whistle to line the lower moon of the cuticle.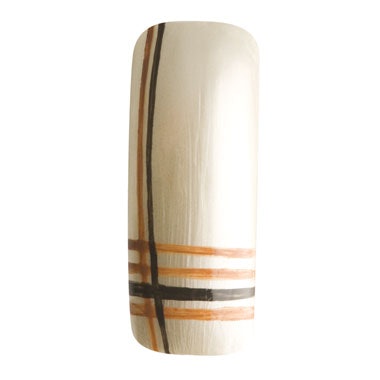 White set:
Create full coverage white nails with White Porcelain by INM.
On the ring finger, transfer newspaper print onto the nail by laying a small piece of newspaper over the dry nail and press down on it with a cotton ball socked in rubbing alcohol.
Once dry, set the nail with top coat.
Create hand-drawn flowers with Essie's Red Hiking Hills.
RELATED: Polished Girlz And ORLY Form Partnership For Polished Girlz Ball
What do you think of the Polished Girlz looks? Let us know in the comments below and then read more NYFW coverage.
This story was originally published on NailItMag.com
[Images: Jack Paulus for Dream Central Studios]