Halfway through award season and the red carpet looks just better and better. Here, a few of our favorite nail looks from the event.
Celebrity manicurist Deborah Lippmann complement Amy Adam's Brandon Maxwell dress with a modern, fresh take on a classic French and a blue-tone pedi. Lippman used Brand New Day, a sheer neutral beige cream and a pastel petal pink shimmer on the very tip for a fresh and glam look.  To recreate the look,  first perform a dry manicure by cleansing the nails with The Stripper Nail Lacquer Remover. Shape the nails as desired with Smooth Operator 4-Way Nail Buffer and exfoliate the cuticles with Marshmallow Whipped Hand & Cuticle Scrub. Hydrate hands with Rich Girl SPF 25 Hand Cream and The Cure. Apply a layer of Turn Back Time Base Coat, then two coats of Brand New Day. Apply a thin layer of La Vie En Rose to the very tip for an elevated French. Seal the look with Gel Lab Top Coat. On the toes, Lippmann applied two coats Get Lucky, a sage blue cream topped with This Magic Moment.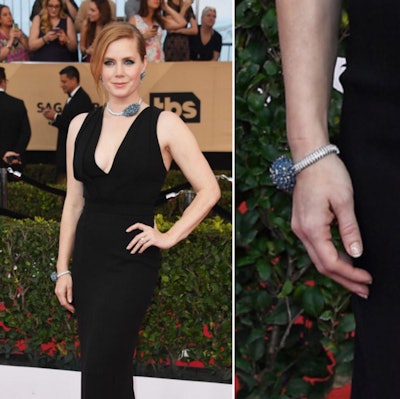 "I am so lucky to work with Amy again – her style is impeccable and she just loves to have fun. Her Cartier jewels were a beautiful mix of diamonds and sea foam green stones, so for her pedicure I used Get Lucky, an elegant blue shade, with This Magic Moment layered on top for a hint of shimmer. For her manicure, I used Brand New Day, with Le Vie En Rose along the tip of the nail, creating a very modern French manicure that is glamorous, fresh and young, " Lippmann says.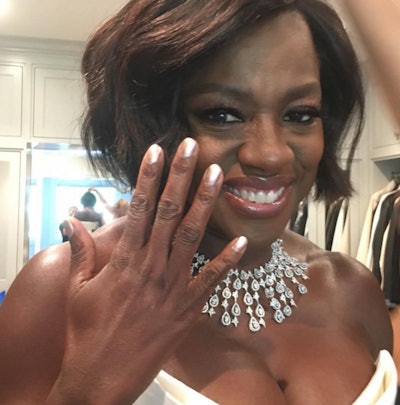 Actress Viola Davis graced a bronzed Essie shade manicure by celebrity nailpro Julie Kandalec. "To create a feminine yet edgy look, we chose Essie's Penny Talk, a statement-making copper metallic to pop against Viola's structured white Vivienne Westwood gown," Kandalec says.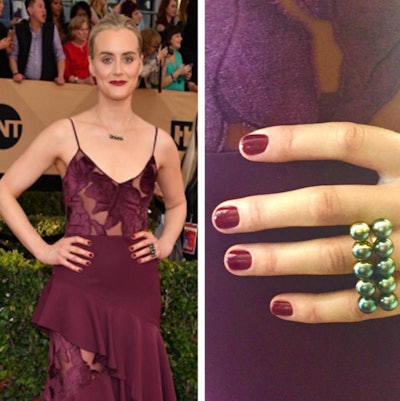 Actress Taylor Schilling wore an oxblood set applied by celebrity nailpro Christina Aviles. "Essie's Bordeaux was the perfect polish to complete Taylor's burgundy, monochromatic 90's look. Two coats of this deep red wine shade paired with short nails kept her style cool, young and on-trend," Aviles says.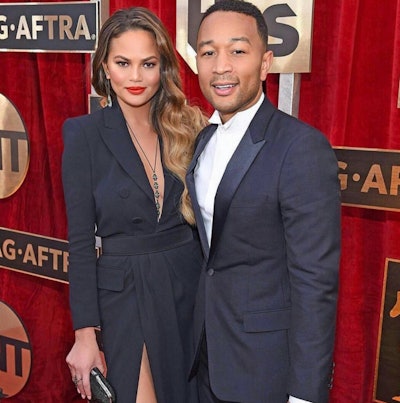 Model Chrissy Teigen stunned in a stunning barely-there nail color. "We decided on Essie's Mademoiselle to create sexy, sheer nails that played off Chrissy's plunging Dsquared wrap dress and thigh-high slit," says celebrity nailpro Kimmie Kyees.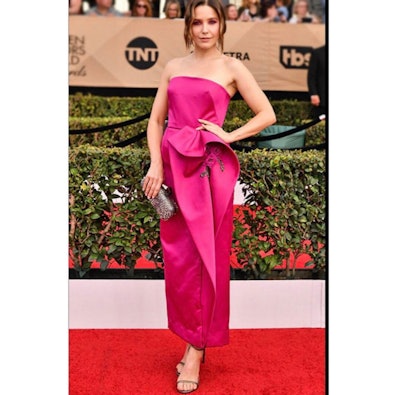 Actress Sophia Bush wore a subtle pink shade to match her vibrant ensemble. "Sophia and I chose Essie's Sugar Daddy, a sweet, soft pink to create a natural nail. The polish coordinated beautifully against her dynamic, hot pink Marchesa dress," says celebrity nailpro Millie Machado.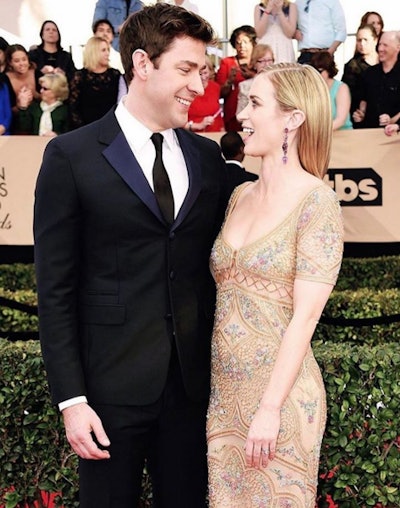 Actress Emily Bunt wore a soft and natural manicure. "We started by shaping Emily's nails into a clean, classic oval shape and followed with two coats of Essie's Mademoiselle for a soft wash of color. The sheer pink shade complemented Emily's fair skin tone as well as her nude embellished Roberto Cavalli gown," says celebrity nailpro Carla Kay.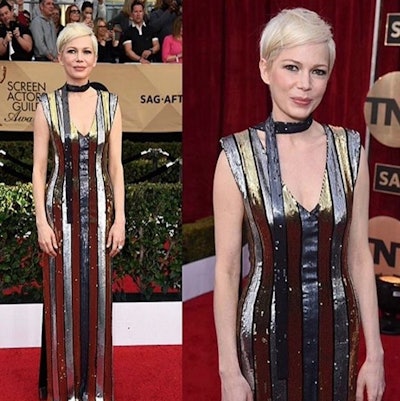 Celebrity nailpro Elle used Dermelect's What a Gem layered with Indulgence on actress Michelle Williams to create a high shine and glossy shimmer nail that wouldn't overshadow her mixed metal sequin Louis Vuitton gown.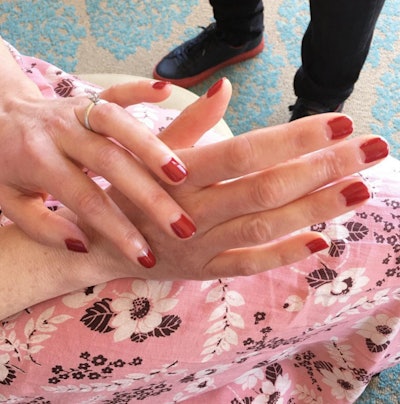 Gretchen Mol stepped outside the traditional red carpet nail look and stunned with a vibrant red moonicure by celebrity nailpro Kait Mosh.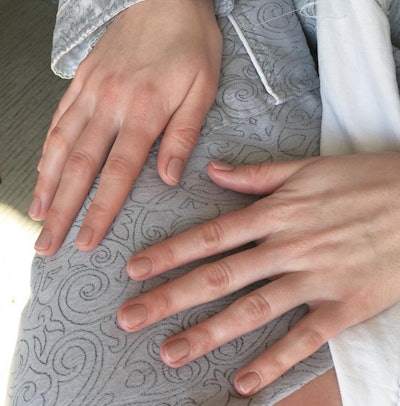 Mosh also dressed the nails of Laura Carmichael with a sheer nude shade.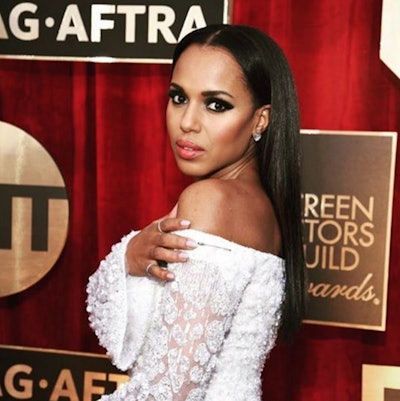 Celebrity nailpro April Foreman painted OPI brand ambassador Kerri Washington with a taupe cream shade.
How will you incorporate these red carpets look into your services? Let us know in the comments below! 
-Sigourney Nuñez
[Images: Instagram @julieknailsnyc, @_aprilforeman, @kaitmosh, @enamelle, @christinaaviles, @carlykaynails, @deborahlippmann, @millie_cosmo, @kimmiekyees]