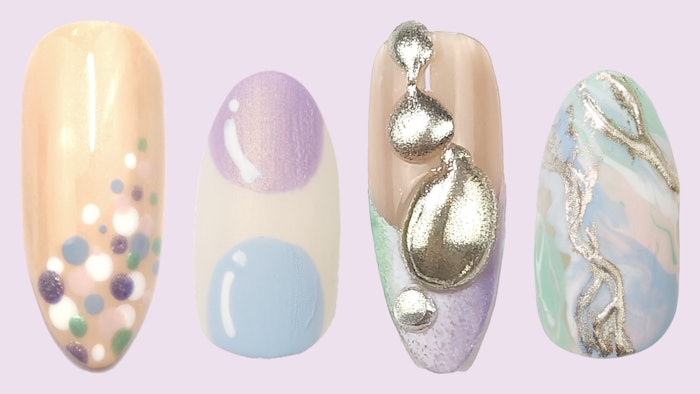 Courtesy of CND
This spring, lean into the colorful and sensorial, where the metaverse holds hands with present day reality. Capture the essence of both worlds by mixing color and texture on your nails.
Think ASMR meets a cheery, pastel world of color. All designs suggested below were created by Tamara Dilullo (@candynailbar). Tamara related strongly to the future-forward thinking of the trend and welcomed the invitation to explore new approaches of design possibility.
The Palette
The Spring 2023 Shade Sense collection from CND is softly exciting and dimensional, with undertones of shimmer, holographics and reflective shine. Nail artistry will reflect some fresh themes, including magical pastels, fairy geodes, whimsically animated shapes and playful, squishable bounce.
What distinguishes this palette from other seasonal pastels is the color travel they carry with them. At first glance, you'll see a note of pastel color, and then catch them off guard in a different light for a wild and wonderful whimsical journey.
The colors also open the door to new ways to express ourselves through fashion. Nails become the ultimate accessory to this new trend, which features bold, textured monochrome clothing with a modern, minimalist appeal. A simple silhouette is key for Spring 2023 but with special attention paid to details with interesting sleeves and clean, flattering necklines.
Makeup should enhance nail colors and help accent the look but not over-take. Small details and pops on the lips or eyes and a nude matte face. So, now let's do a deep dive into how we can best showcase these playful shades.
Nail Shape
First, nail length and shape should provide a bold palette for expression and should be long, strong and commanding. Think stiletto, coffin and even square. Avoid soft demure shapes, since the color palette provides enough softness.
Piñata 


Start with a base layer of neutral and then build a magical pattern using a pointillism technique in every shade of pastel from the extension edge up to the smile line area, and in various patterns on each nail. This is a simple technique that can be done with a dotting tool, resulting in afloaty, dreamy look to the fingernail (and it's even better on toes). We like to call this design 'Piñata' since it gives the energy of a happy party explosion on all ten nails, adding just enough color and design to steal the show.  The design can be amplified for the bold client, or simplified if needed, making it one of the most versatile designs of the season.
Two Balloons


Equally simple but beautifully bold, two balloons are placed on a nail, one at the cuticle line and one at the tip in contrasting pastel shades. An added hand-painted highlight is placed on each balloon and then all nails are finished with matte top coat for an animated result. All ten nails carry the same design for best effect.  Super simple to create but completely on trend for most clients, this will be a must-have look for the season and best worn on a sleek almond shape.  
Sky Lines


In the mood to utilize all the colors all at once in dimensional patterns? Well this design is for you!  The technique is a simple drizzling of gel polish color down the nail in random vertical patterns with flash curing in between, and finished with a matte top coat. The final dimension is added with a drizzle of No-Wipe Top Coat, followed with silver chrome effect for movement, depth, and distinction from the background pattern.  As intricate as this appears, the technique is quite simple and easy to do. It's all about layering, while maximizing matte and shiny together, contrasting the shades for a dramatic p
I Tried To Be Basic


Finally, push the boundaries of the surreal with this design, which begins with a pastel vertical ombre French tip using Gel Polish placed on a negative space base.  Top coat, cure and clean before adding a nice sized drip of gel on top of the design. Burnish in chrome effects over the 3-D areas to create a mercurial and avant-garde finale.  Add the drip on one nail or all, depending on your client's desire.  In wearing this design, flashes of chrome bring attention to the pastel tips and play of light. SO on trend in every way.  
Have Fun
Spring 2023 brings light, fun and play to nail services. It's time to take your own journey to the mystical and magical metaverse, as you might imagine it!
About the Author:
Jan Arnold is the co-founder and style director of CND. Her father, Dr. Stuart Nordstrom, was the brilliant dentist and organic chemist whose discoveries launched the company in 1979. Her family built CND on a commitment to advancing the state of the industry through groundbreaking innovation and world-class education. Jan is a founding Board Member of Beauty Changes Lives (BCL), a foundation committed to elevating, educating and exposing the richness of a career in professional beauty. She led an effort to raise scholarship donations for aspiring nail professionals though the creation of the BCL CND Tippi Hedren Nail Scholarship Fund, which has raised $250,000 to-date along with $150,000 in Advanced Scholarships for active and licensed nail professionals.