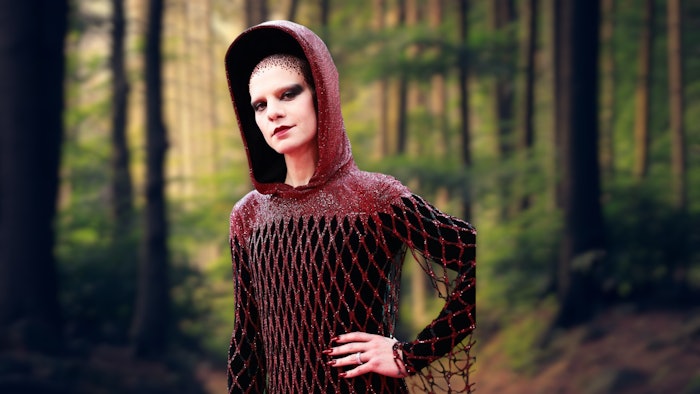 Courtesy of @dimitrioskphoto @jennyandersonphoto Dominic Bindl
"Into the Woods" producer Jordan Roth turned heads at the 2023 Tony Awards with a floor-length black dress with a bedazzled, hooded scarlet overcoat. 
Roth finished off the look with red lips, a sequined head and a stunning red manicure to match. Celebrity nail artist Sonya Meesh (@sonyameesh) created Roth's nail look using products from Manucurist Paris. 
If you want to recreate this dazzling and sophisticated nail look for your clients, look no further. Meesh shares her step-by-step tutorial for creating this magical look below. 
How-To: 
Buff the nail to create the perfect base. Then, clean the nail using an alcohol or acetone-free remover on a lint-free wipe. 
Apply one coat of Green Flash Base Coat, then cure for 1 minute under an LED lamp. 
Next, apply one coat of Green Flash Red Cherry, and cure for 1 minute. Then, repeat for a second coat of Red Cherry. 
Frame the nail with loose brush strokes with Green Flash Red Hibiscus — the more variation the better!  
Repeat with Green Flash Dark Pansy in the areas of the nail not brushed with Red Hibiscus, and cure for 1 minute.  
Then, apply one coat of Green Flash Top Coat, and cure for 1 minute. 
Finish by applying Manucurist Cuticle Oil and Hand Cream.