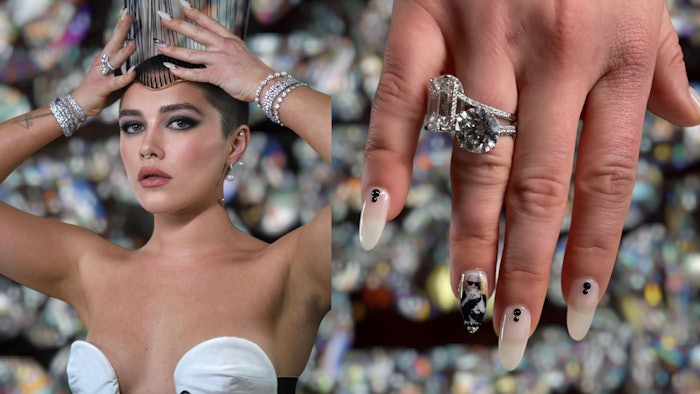 Courtesy of Dawn Sterling (@nailglam)
Florence Pugh wore a Valentino dress to the Met Gala with gorgeous nails to honor Karl Lagerfeld, who this year's Met Gala was themed after. 
Celebrity nail artist Dawn Sterling (@nailglam) created Pugh's Met Gala nail look using products from Manucurist Paris. 
Inspired by the "beauty and edge that Karl blended so well," Sterling created a look that reflected Pugh's humor and playfulness with Lagerfeld's cool elegance. 
If you want to learn how to recreate this look for your clients, you can follow the tutorial below.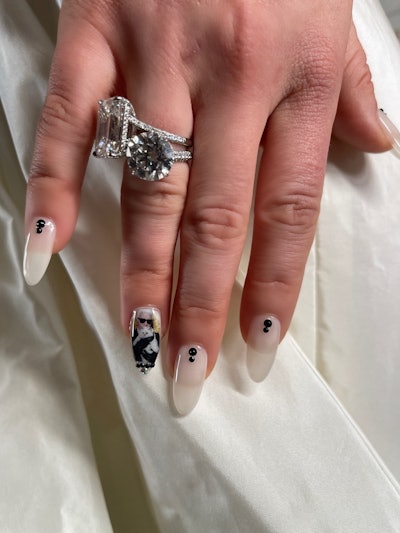 How-To: 
Apply one coat of Green Flash Base Coat, then cure for one minute under an LED lamp.
Apply one coat of Manucurist Green Flash Milky White (a creamy white shade), and cure for one minute, then repeat with two additional coats of Milky White. 
Apply two small black crystals at the base of the nail. Sterling added a portrait of Lagerfeld and his beloved Choupette on Pugh's ring finger.
Apply two coats of Green Flash Top Coat, and cure for one minute.