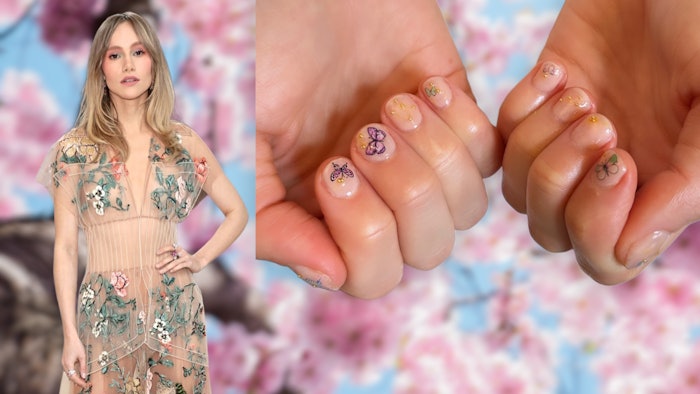 Courtesy of Emi Kudo (nailsbyemikudo)
Suki Waterhouse wore a sheer, nude floral dress to the 2023 Met Gala and had adorable butterfly nails to match! 
Manicurist Emi Kudo (@nailsbyemikudo) created Waterhouse's nails using products from Aprés Nail. 
Follow the tutorial below to create this adorable nail look for your clients! 
How-To: 
File nails into round, short shape. 
Push back cuticles, cleanse underneath nails, buff surface of nails and trim excess cuticles.
Cleanse nails and apply one coat of base coat. Cure 30 seconds, and follow with two coats of a sheer nude color. 
Apply a non-wipe glossy top coat, then cure and cleanse surface of the nails.
Apply vintage butterfly nail stickers, then apply your chosen base coat again. Place gold decals, and cure.
Apply your chosen non-wipe glossy top coat again, and cure. Finish with cuticle oils to moisturize.