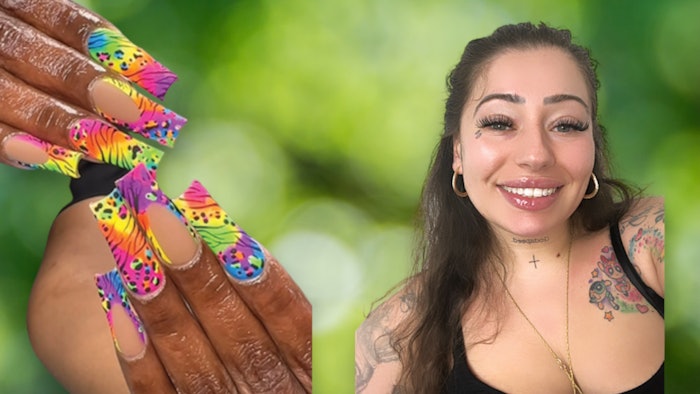 Courtesy of @zaneyynails
Zanah Nesheiwat (@zaneyynails) shares four things that inspire her work as a nail artist in Nailpro's July/August 2023 issue.
Hi! My name is Zanah, which is pronounced Zay-nuh. I am the founder and owner of ZaneyyNails salon located in Bayonne, NJ. I began to develop my passion for nails and nail art as a child. I often practiced services on my mom, sisters and aunts. It wasn't until I was much older that I realized that I could and would build a career and business out of it.    
Four Things That Inspire Zanah 
Beauty: Aesthetically speaking, my nail art is inspired by all things beautiful. One of the things I love most about my line of work with nails is the ability to create art out of almost anything. I love that nails are a category of their own, and there are a million sub categories, like hand-drawn art and color blocking, for example. It's amazing how I never have to choose one and stick to it. I can explore forever and that makes me happy. I take so much pride in my work. The structure and longevity of the nails are both equally as important to me as the art and finished product. I always make a conscious effort to leave the best impression possible.
Former Employment Experiences: Former employment experiences have also played a role in my inspiration to pursue my talent of nail art. Those experiences have taught me to create a safe work environment for others, as well as myself, and to treat everyone fairly and respectfully, regardless of race, color or sexual orientation. With that, I'm proud to say that Zaneyynails is a safe haven for women and the LGBTQIA+ community. 
My Clients: My lovely clients also play a role in what inspires me. When you are in the beauty industry, you inevitably build connections with people. They become friends – sometimes family. Part of my passion is seeing them happy.
My Past: My past also inspires me daily. It's a humble reminder of when I first started out with a shoe box full of nail polish. I would create art with toothpicks. I didn't even own any art brushes or proper dotting tools. Now, I have a salon with my name on the sign. It is important to me that I work hard and earn this on my own. I'm proud of that accomplishment.