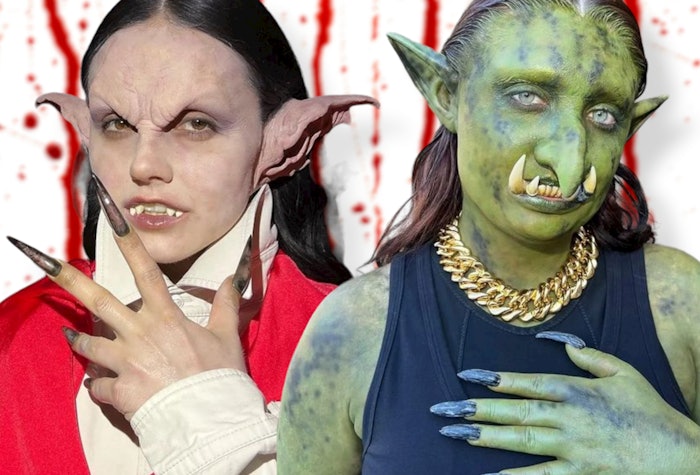 Our skin is crawling after seeing Reyna Sandoval's eerie nail designs for Balenciaga's October 2022 "Trick or Treat" campaign
Sandoval shared the eerie nail designs on Instagram, including close-ups of the final results, which you can view below. 
Sandoval, a Nailpro 30 Under 30 award winner, is a licensed manicurist and a salon owner in San Diego, California. She's assisted for New York Fashion Week and editorial photoshoots. Follow her on Instagram at @queenlaque.
Custom Curved Claws
Sandoval created custom curved claws for this goblin costume that calls to mind Shrek's love, Fiona. Sandoval shared the look on Instagram, writing, "My perfectionist brain was challenged to create purposely 'creepy curved nails' for this." Like any great collaborator, Sandoval made sure to credit the rest of the photoshoot talent on Instagram.
Airbrushed Nails 
Sandoval's custom airbrushed nails were the finishing touch for this vampire costume. On Instagram, Sandoval thanked makeup artist Ally McGillicuddy for bringing her aboard the Balenciaga project.
 Follow us on Instagram and subscribe to our free daily newsletter to receive the latest news for nail professionals.