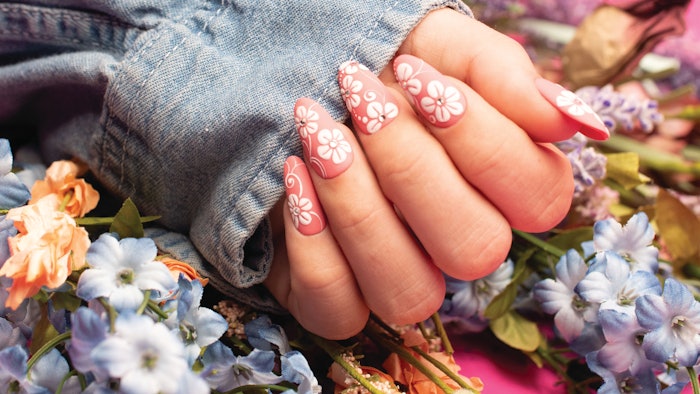 With one month of warmer temperatures, we have stepped out of the cold dark of winter and burst into spring with new, fresh, blooming looks to welcome the beauty of the season. Even with the current situation many people find themselves in due to the pandemic, there are silver linings for those who are still trying to maintain their salon styles. It just so happens that because some salons may not be as busy as they were a few years ago, clients have a much better chance of getting an appointment at their convenience and getting not only the technician they want but also a little extra time and attention simply because the schedules are more open and will allow for it. That is where you can come in to offer fresh designs.
Colors
There are many options available at your fingertips when it comes to spring nail looks. The tried-and-true pale and baby pinks as well as those light Easter-like pastels are always a classic, subtle yet trendy way to keep a clean look and stay in style. If you want to step out of the box and try something new—or be a little bolder this spring—you can boost your clients' mood and style with more trendy shades such as a bright glitter blue or a brilliant emerald green with shimmer or glitter. Another daring adventure to embark upon could be a marbled or blooming gel look with two or three of their favorite spring shades—or yours if they leave the choice up to you.
Textures
We often associate sugar and sweets with spring as well Christmas because of Easter and other various holidays we celebrate. Now, you can have your clients' nails be sugary sweet by using any type of acrylic or dip powder to dust over the wet gel polish surface before curing. The result is a soft, sugary, suede-like textured look. Acrylic and dip powder systems have always been a staple in a nail artist's arsenal of beauty tools and products. By using them as a texturizing accent, you can elevate any nail design into something refreshed, pristine and camera ready.
Blooming Gels
If it is a blooming finished look you are going for, you can easily achieve this with a blooming gel. This is a clear brush-on gel that allows the pigmented gel polish to rapidly spread, creating a very soft, watercolor-like finished design; this has existed in the market for years, which you might call a hidden gem. However, this is the perfect product for spring to create the soft, sweet, classy looks that are otherwise rather challenging to some to achieve with more basic products. This kind of gel is very forgiving and allows you to make each new nail a custom piece of artwork for your clients or yourself.
For a modern take on classic designs and two springtime how-tos, check out Nailpro's April 2022 digital magazine.