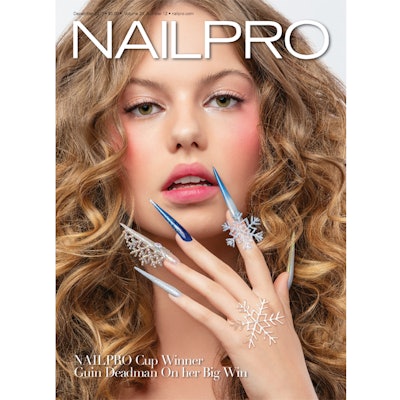 One of the highlights of producing this magazine is hosting the NAILPRO Cup champion for our annual cover shoot—the winners' creativity and talent is always mind-blowing, making the collaboration process super fun. This year's winner, Guin Deadman-Littlefield, certainly didn't disappoint! She came fully prepared to craft a wintery set. Before her arrival, we discussed a frosty theme with a model looking like she just came in from the snow. To achieve a complementary nail look, Deadman-Littlefield extended the model's nails with clear gel into perfectly shaped sharp stilettos. She then coated them with hues from LeChat's winter collection. The pièce de résistance, however, was a magnificent hand-sculpted snowflake edge nail. Deadman-Littlefield meticulously built the flake with clear gel, then adhered it to the model's nail. Once attached, she coated it with sparkling white acrylic powder and tiny iridescent Mylar flakes. And if that weren't enough, she then encrusted it with clear Swarovski crystals to stunning effect. To be sure, award-winning work at its finest!
To see more behind the scenes from this cover shoot, make sure to follow @nailpromagazine on Instagram!
–by Stephanie Yaggy Lavery
[Images: Courtesy of Armando Sanchez]
This story first appeared in the December issue of Nailpro magazine. To receive the magazine, click here to subscribe.