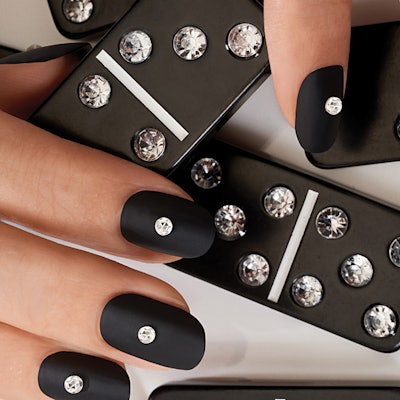 When it comes to creating a luxury manicure, sometimes the best way to make a statement is by keeping it simple. That's precisely the approach celebrity manicurist Elle took when she created these elegant nail designs featuring real diamonds and precious gems for United Kingdom-based Scratch magazine. Rather than piling on additional embellishments and hand-painted details, Elle, whose clients include Jennifer Lopez, Charlize Theron and Blake Lively, highlighted the beauty of the stones by setting them against chic matte black and metallic backgrounds. Another way to ensure quality gems and crystals remain the center of attention? "You never want to cover the facets of a quality stone or crystal with top coat," says Elle. "It will make it look like plastic." Instead, she advises, set stones in gel and then apply top coat only around the edges of the stone using a detail brush.
RELATED: Behind the Scenes of Second Act with Celebrity Manicurist Elle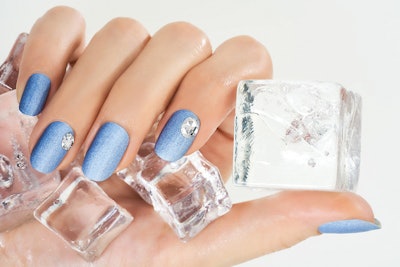 VIDEO: NAILPRO's Creating the November 2019 Cover with Gelish
While using expensive gems is certainly an effective way to provide a luxurious (and revenue-generating) experience for clients, it's by no means the only way to up the ante. Try incorporating ultrapampering, results-oriented products like an antiaging hand cream or CBD pain relief balm into your service, suggests Elle. "Offering clients something exclusive that has more benefits is a great way to introduce luxury and justify higher prices," she says. "Use products that aren't widely available at other salons." For more advice on how to raise your prices by offering guests a luxury experience, see "Luxury Services."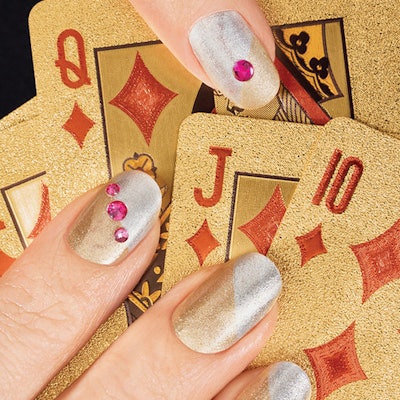 –by Lotus Abrams
[Images: Courtesy of Robert Milazzo]
This story first appeared in the November issue of Nailpro magazine. To receive the magazine, click here to subscribe.