Exaggeration with stylized intention. An acceptance of artifice and the unnatural. Pushing the boundaries of taste into the absurd. For designers with a sense of humor, embracing the campy side of fashion gave the fall 2019 catwalks much-needed levity—especially in a season that tends to feel heavier in tone as well as actual fabric weight. For some designers, a message could be found in the madness. Designer Jeremy Scott took a tongue-in-cheek stab at capitalism with pants printed in generic soft drink advertisements at the Moschino show; for his eponymous line, he screened and stitched tabloid newspaper clippings onto coats, dresses and jumpsuits to reflect society's insatiable desire for gossip. Elsewhere camp seized on its inherent playfulness. Case in point: a sea of squiggly sperm swimming across a sweater at Ashley Williams, or Frankenstein and his bride positioned front and center on a silky Prada slip dress. If absurdity clicks with your nail art-loving clients, follow guest artist Asa Bree Sieracki's lead and dupe the silliest take on the trend: sperm! Or, go more subtle if you must; the goal is excess mixed with a side of ridiculousness—but above all, be experimental!
RELATED: Crochet Runway Fashion Inspire High End Nail Art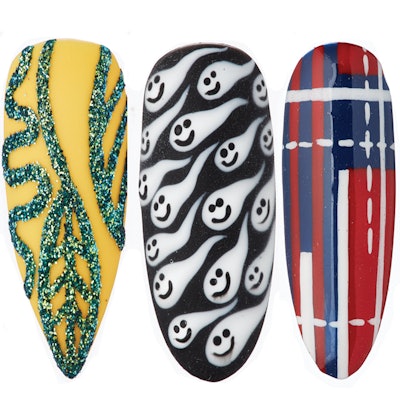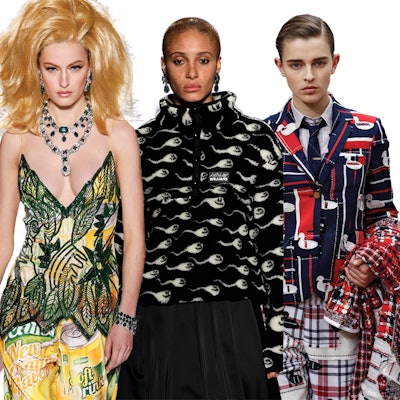 RELATED: Manicurist Bana Jarjour Creates Feathered Tips Inspired by Runway Trends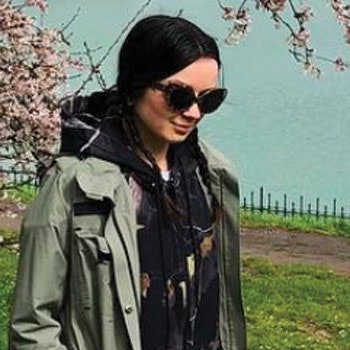 Guest Artist: Asa Bree Sieracki specializes in intricate gel nail art at Finger Bang in Portland, OR.
–by Karie. Frost
[Images: Courtesy of Brooks Ayola; Getty Images; Instagram]
This story first appeared in the October issue of Nailpro magazine. To receive the magazine, click here to subscribe.