There are polka dots and then there are polka dots. This season, spots shed their quiet, ultrafemme guise in exchange for noisy modernist art. At Dolce & Gabbana, a dot- dappled giraffe brought surreal whimsy to a patchwork dress, while a spotted silk sheath at Marni played host to a collage of Greek statues. Slightly less highbrow—but certainly the most fun—a jaunty trench at Moschino seemed stippled by a pink highlighter pen. Of course, traditional black-and-white polka dots circled the trend, but they experienced a rebirth as well, either in partnership with fresh floral prints (at Carolina Herrera) or united in differing sizes (at Andrew Gn). The polka dot, being a nail art favorite (after all, there is a nail art tool designed specifically to create these tiny spheres!), has seen its fair share of nail plates. So, how to freshen it up? Do as the catwalks—and guest artist Vivian Xue Rahey—do: Merge spots with disparate prints, create a dotted animal or give your pinpoints a highlighteresque makeover.
RELATED: Manicurist Bana Jarjour Creates Feathered Tips Inspired by Runway Trends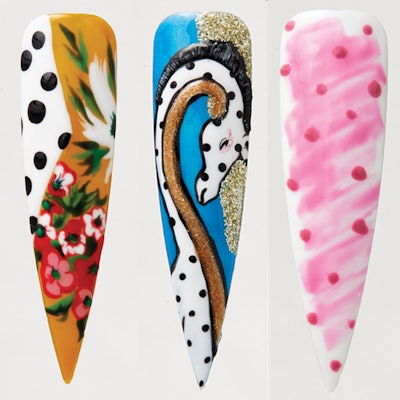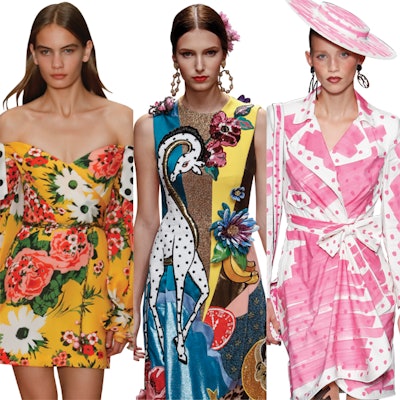 RELATED: Guest Artist Alec Hinz Creates Wild-West Runway-Inspired Tips
Guest Artist: Vivian Xue Rahey is CEO and founder of Pamper Nail Gallery located in the San Francisco Bay Area, a leading nail artist and an Instagram influencer who discovered her love of nails via social media.
[Images: Courtesy of Armando Sanchez; Getty Images]
This story first appeared in the July issue of Nailpro magazine. To receive the magazine, click here to subscribe.