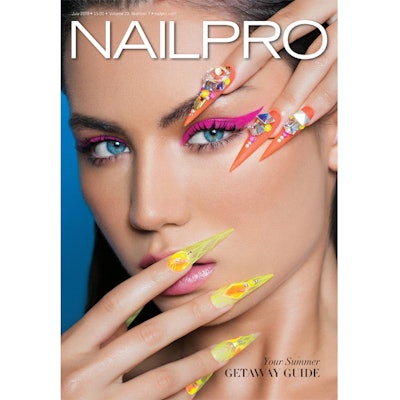 Bright blue water, bold bikinis and so much sparkle it makes you squint: This is what I wanted the cover to represent for our summer getaway issue. So, when scouting a nail talent who could pull out all the stops, I knew I had to reach out to the uberartistic Yvett Garcia. She's known for her precision line work and expert stone placement—throw in some neon hues and you have this month's cover look. Garcia began by sculpting length to the model's beautiful natural nails with acrylic, bringing the tips to a stiletto point. Then the fun began: One hand showcased Garcia's skilled line work, which she achieves by customizing brushes to the sizes she needs. "When it comes to thin lines, it's all in the brush," she says. "I love brushes with real hair, as opposed to synthetic. They glide a lot smoother." The other hand was dedicated to stones of all colors, shapes and sizes. Garcia's best tip: Start with the bigger statement stones first—she applies them with a thick viscosity hard gel—and then move on to the smaller surrounding stones, affixing them with resin. "I try to always use the shape of the nail [as my guide] to prevent the nails from becoming too bulky," she explains. Whether you take one element from this set or incorporate them all, your clients are sure to get excited about these summertime tips.
VIDEO: NAILPRO's Creating the June 2019 Cover
–by Stephanie Yaggy Lavery
This story first appeared in the July issue of Nailpro magazine. To receive the magazine, click here to subscribe.