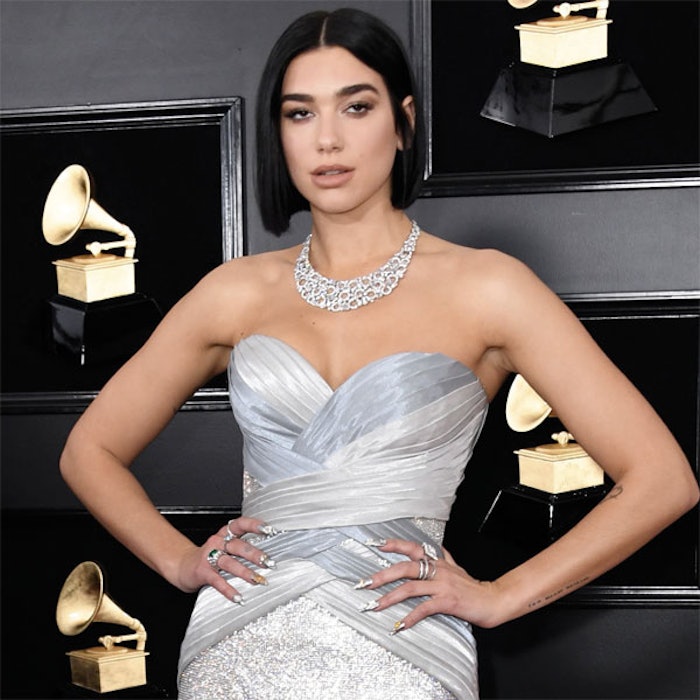 There was no shortage of nail art inspo to be seen on the 2019 Grammy Awards red carpet. To be sure, there was a manicure fit for every nail fan, from short and sweet, à la Anna Kendrick, to long and glittery as seen on Dua Lipa. Here, a few of our favorite Grammy nail looks that struck all the right notes.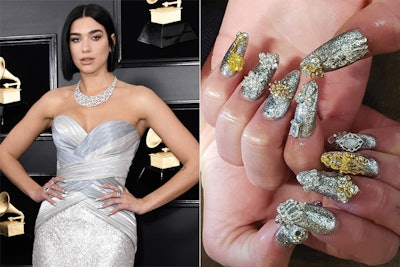 Dua Lipa
Best New Artist winner Dua Lipa sported an eye-catching manicure courtesy of Kimmie Keyees. She achieved the glitzy, textured effect by layering gray Defy & Inspire Gauntlet and glitter Crazy Kind of Beautiful before topping the nails with a liberal sprinkling of loose silver glitter and various silver and gold charms.
RELATED: Four Gel Polish Designs for Your Client's Every Spring Occasion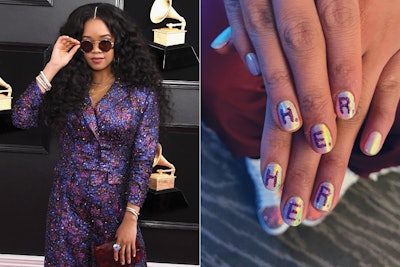 H.E.R.
Complementing her sparkling Coach jumpsuit, double Grammy winner H.E.R. displayed some self-love with a unicorn chrome mani by Chaun Peth inscribed with her name in purple glitter block letters.
RELATED: Get Clients Music Festival Ready with Insta-worthy Nail Designs
Anna Kendrick
The dainty feathers in presenter Anna Kendrick's pink Ralph & Russo mini dress provided the inspiration for her manicure by Michelle Saunders: two coats of shimmering white Essie Gel Couture Lace Is More topped with First View, Pink Diamond and No Place Like Chrome brushed onto the nails in featherlike strokes using a small fan brush.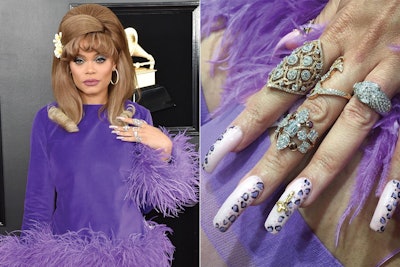 Andra Day
The finishing touch to Andra Day's purple feather-trimmed ensemble? An animal print manicure by Kait Mosh, of course! To achieve the look, she applied two coats of OPI GelColor Let Me Bayou a Drink, and then painted a cheetah-print pattern on the nails with Lavendare to Find Courage; Ink; Show Us Your Tips!; and Tinker, Thinker, Winker? before affixing a gold cross charm to each ring finger.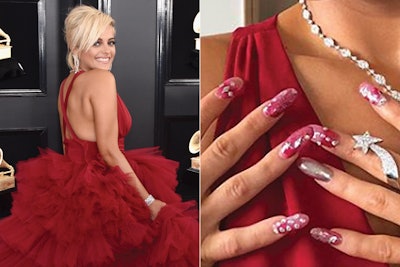 Bebe Rexha
To complement Bebe Rexha's frothy red gown, Barbra Warner created a sheer cherry ombré manicure using OPI Big Apple Red and Chrome Effects Tin Man Can, finishing the look with pearl and rhinestone accents.
–by Lotus Abrams
This story first appeared in the April issue of Nailpro magazine. To receive the magazine, click here to subscribe.
[Images: Courtesy of Chaun Peth; Essie; Getty Images; Instagram]