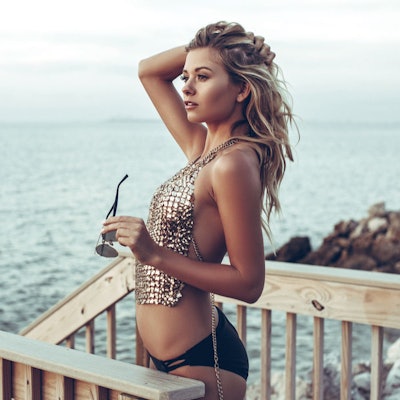 From prom and spring break to weddings and garden parties, the season's special events call for durable and lasting gel polish tips and statement-making nail art. "Even if you're limited to a few colors, you can blend gel polishes to create custom hues for one-of-a-kind nail art," says Pamper Nail Gallery artist Brittnay Morris. "Depending on the look you and your client envision, try mixing matte and glossy finishes on different nails or parts of the nail. You can also create texture and dimension with gel polish by building on layers of color—the possibilities are endless!" Help your clients get ready for their next big event with these memorable manis—plus a slew of gel polish shades suited to each occasion.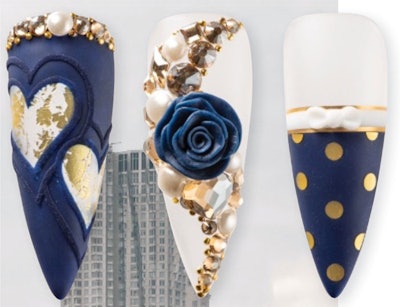 Polished Prom
For prom circa 1990s—and even into the early 2000s—pink-and-whites were not only the style, but the staple. You weren't fully dressed without a crisp smile line. But Ugly Duckling ambassador Priscilla van Uden presents a playful alternative fit for any aspiring prom queen. Evoking a vintage feel, this set was inspired by deep color tones, prom corsages and retro bowties. "I wanted to incorporate a flower, as the corsage remains an important part of prom," she says. "To achieve the overall vintage look, I added gold polka dot glitter pieces and deep navy gel polish, and finished the look with a matte top coat. After curing, I added another two layers of matte gel top coat to secure the glitter for long wear." To achieve the 3-D heart outlines, van Uden used a sugaring technique. "I outlined both hearts with navy gel polish and spinkled them with clear acrylic powder," she says. "Work on one heart at a time so the gel polish doesn't bleed."
RELATED: National Unicorn Day Summons Fantastical Nail Art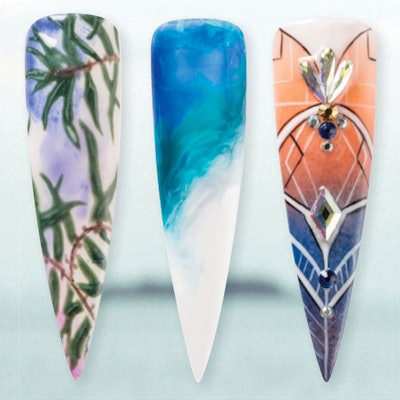 Spring Fling
Inspired by moonlit ocean swims, sunset skies and tropical palm leaves, senior Pamper Nail Gallery artist Shanice Brown created three stiletto nail designs just in time for spring break getaways, bonfire parties and days spent basking in the sunshine. "To create the ocean wave, work with your gel polish while it's wet for seamless blending," advises Brown. "I like to combine different shades of the same color to create dimension."
RELATED: Get Clients Music Festival Ready with Insta-worthy Nail Designs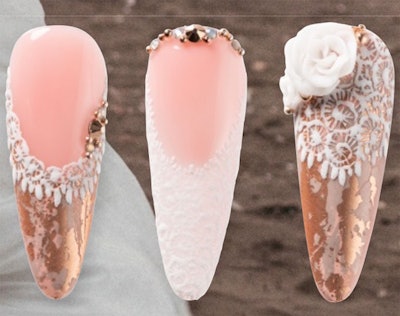 Blushing Bride
Ugly Duckling master educator Natasha Harton used her own dream wedding vision as inspiration for these delicate almond-shaped nails embellished with rose gold stones and gel paint embroidery. For a vintage wedding gown feel, Harton created a crocheted lace design by joining various-size swirls of white art gel together. "I applied gel dots to create a scalloped trim on the outer edge of the lace," she says. "To achieve the textured matte look, I sprinkled clear acrylic powder over the uncured gel polish. After curing, I dusted off the excess powder."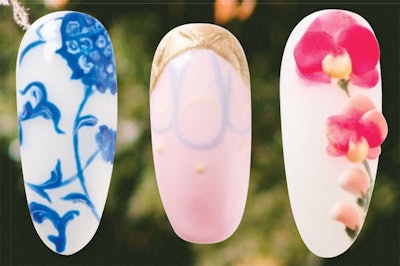 Garden Party
Whether clients are hosting a poolside party, al fresco brunch or casual afternoon tea, Morris's tips, inspired by orchids, fine china, and blue-and-white vases, are sure to enliven any garden get-together. "When sculpting the orchid petals, work one petal at a time and ensure each is completely dry before building on it," advises Morris. "Don't focus too much on the details; look at the design as a whole to make sure it flows. Keep your lines consistent, and use a cleanup brush as you work."
–by Angelina Lewis
This story first appeared in the April issue of Nailpro magazine. To receive the magazine, click here to subscribe.
[Images: Courtesy of Brooks Ayola; Unsplash]