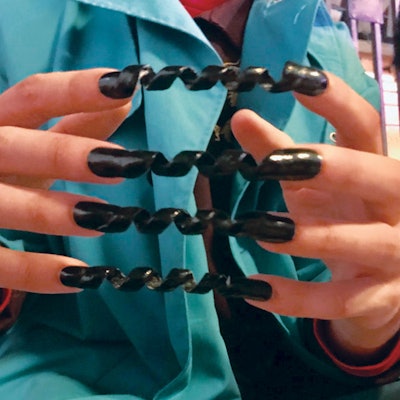 Nails played a leading role in French fashion house Kenzo's recent film The Everything, written and directed by Humberto Leon, which showcases the brand's fall/winter 2018 collection.
The light-hearted drama, starring Milla Jovovich, follows the story of a family of teenagers with some pretty unusual superpowers—one of which is to transform nails into fantastical creations. The movie's nails were meticulously crafted by celebrity nail artist Naomi Yasuda, whose elite clientele includes such mega stars as Madonna, Lady Gaga and Rita Ora. "The nails played a huge role and were one of the main elements of the movie," says Yasuda, who collaborated with Leon to create three imaginative looks for the film. "My goal was to bring the nails to life the way he imagined them and the way the story was told."
RELATED: Nailpro's Readers Choice Awards Winners 2018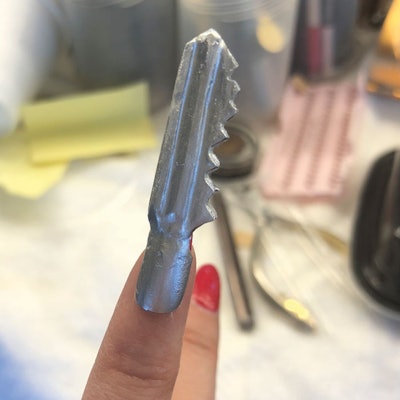 To that end, Yasuda relied on her expert skills and some inventive thinking to create each design. To craft the "key" nail seen in the film, Yasuda attached the tip of an actual key to a full-coverage nail tip, covered it with acrylic, filed and buffed the nail and then painted it with silver nail polish. She created the film's "spiral" nails—black spirals connecting the actor's fingers—by sculpting acrylic around a plastic straw in a spiral shape. "Once the acrylic was completely dry, I removed the straw, attached tips at each end, buffed the nails and then painted them."
RELATED: Golden Globes 2019 – Celebrity Manicurists Create Red Carpet Looks
The most time-consuming look to create for the film was a set of extra- long red nails, achieved by joining sections of sculpted acrylic together with more acrylic. "Glue wasn't strong enough," Yasuda says. "I also tried using clay, but that didn't work either; it was too soft." After attaching all of the parts together to make the long nails, Yasuda buffed them and applied two coats of red polish. "It took five hours and a whole bottle of polish to completely cover the nails!" she says. "They were super fragile, but a nail never broke." See the film here.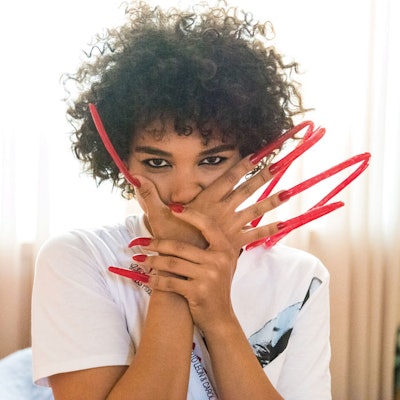 See the film below.
–by Lotus Abrams
[Images: Courtesy of Jarod Wang and Naomi Yasuda]