As the editors of NAILPRO, we get access to things most techs don't, for example, seeing a product before it launches to the pro market or meeting top nail artists on a regular basis. This June, NAILPRO digital content manager and nail professional Sigourney Nuñez had the opportunity to go where few editors or techs do—backstage at a high fashion runway show. As a licensed tech, Nuñez was tapped by CND creative ambassador Miss Pop to be her first assistant for the Moschino Resort 2018 fashion show at Milk Studios in Los Angeles. The process involved two days of prep, 3,840 coats of nail polish and 960 tips, plus more glitter than most techs see in a year's worth of nail art clients. Here, Nuñez shares what it takes to be backstage, from late night polishing to last minute primping.
Day 1: June 6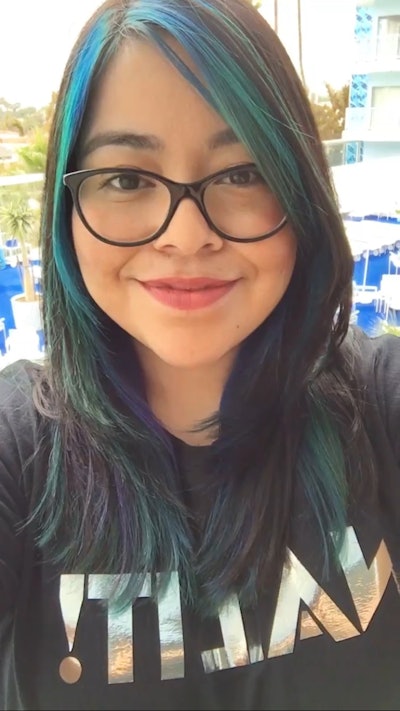 8:54 a.m. I am well rested and ready to start creating the nail looks for the Moschino Resort show. The collection is a nod to the glamour of Los Angeles and the glitz of Las Vegas, and a fictional road trip between the two cities.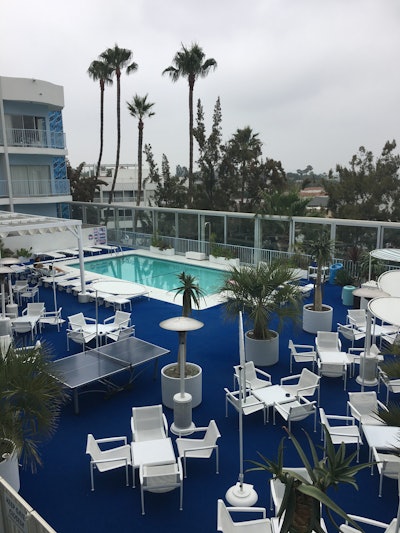 9:23 a.m. The SoCal view from Miss Pop's room at the Standard Hotel in Hollywood where we set up our design lab for two days of production.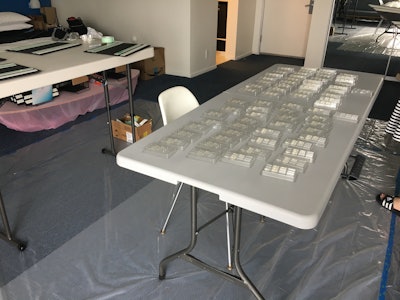 11:14 a.m. First, we covered the carpet with tarps in case of polish spills. Then, we laid out 960 nail tips.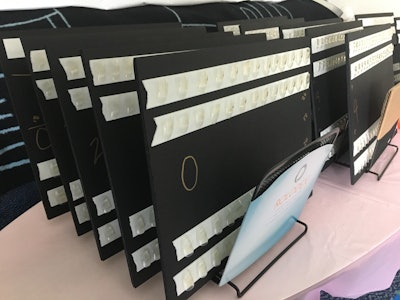 1:51 p.m. Each nail tip is placed on a board and separated by size. The dividers will come in handy later when the tips need to dry.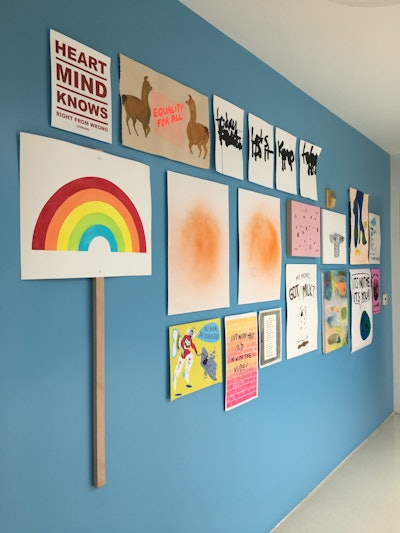 2:56 p.m. I'm dismissed for the day as Miss Pop leaves to meet with the lead designer for Moschino, Jeremy Scott. Before I leave, I snap a pic of the local art showcased in the hotel lobby—major nail art inspo!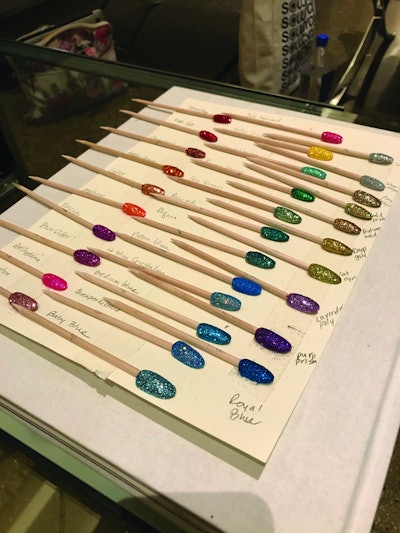 8:02 p.m. Miss Pop texts me an image of the final look for the show, saying, "Here's what's on the menu."
Day 2: June 7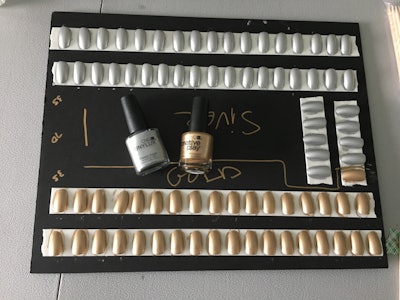 9:22 a.m. There's nothing like the smell of nail polish in the morning! Each tip included a metallic underside in gold (CND Creative Play Let's Go Antiquing) or silver (CND Vinylux Silver Chrome).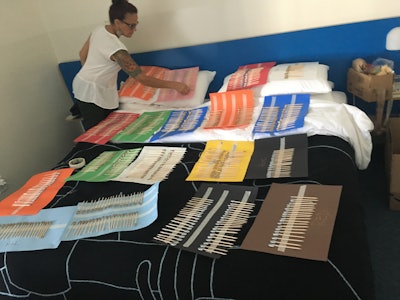 3:34 p.m. After polishing the underside, each tip is attached to an orangewood stick, then separated according to the tip's final color. Each set includes two nail tips in each size (0-10), plus two extra size 4 and 5. Here, CND team lead Vanessa McCollough checks to make sure each set has 24 press-on tips. (That's Miss Pop's bed under there!)
6:32 p.m. For efficiency, we create an assembly line. One tech polishes while the other glitters. Here I am applying green glitter over CND Creative Play Teal the Wee Hours.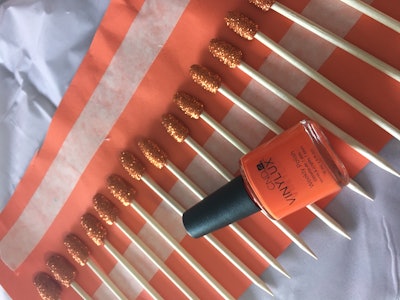 8:52 p.m. We applied two coats of base color, then a heavy sprinkle of glitter over the wet polish to create a textured glitter effect. This is a base of CND Vinylux Electric Orange under orange glitter.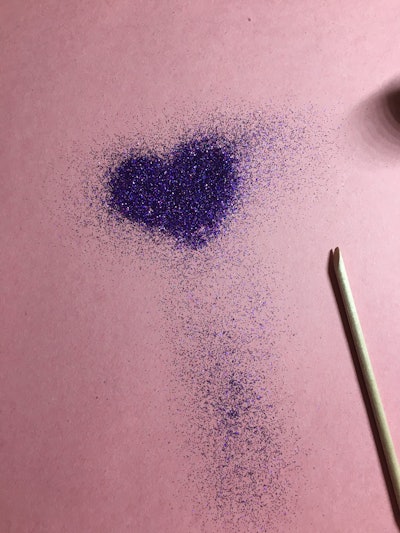 9:28 p.m. After finishing a purple set, I look down at my table and see glitter in the shape of a heart. This truly is a labor of love!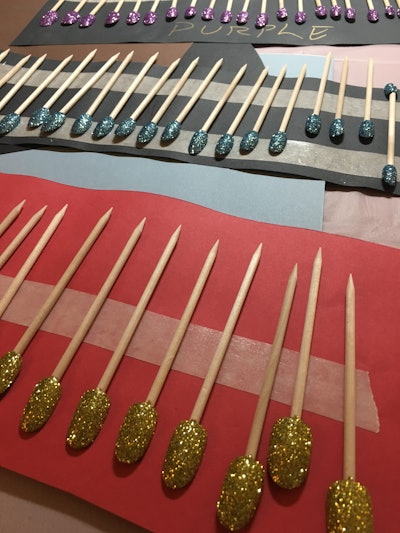 10:26 p.m It's so satisfying to complete a set and check it off the to-do list! And, it's so pretty seeing all of the sets laid out next to each other.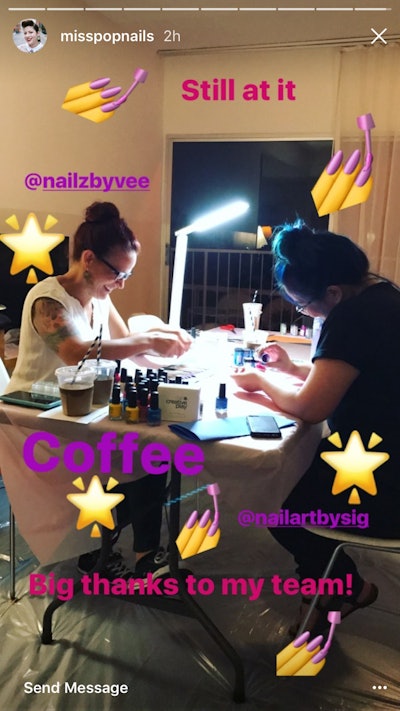 11:48 p.m. Miss Pop's Instagram Story shows    Vanessa and I working into the night with the message, "Big thanks to my team!"
Day 3: June 8
8:55 a.m. At the hotel the nails are packed according to set and ready to be transported (carefully!) to Milk Studios.
10:00 a.m. While Vanessa and I polished and glittered tips last night, Miss Pop hand-mixed glitter nail polish to be applied to the models toes. Here, the 32 custom shades.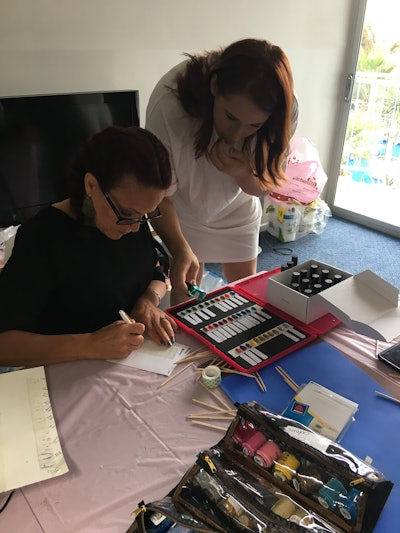 10:16 a.m. Still at the hotel, CND field events coordinator Veronica Atkinson (right) and Vanessa create a cheat sheet for which nail tips and matching glitter are to be used on which model.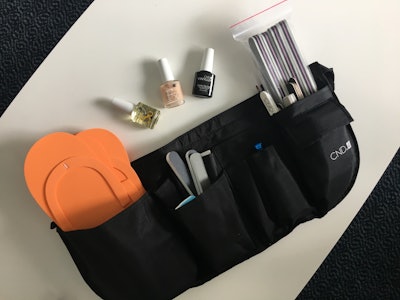 1:53 p.m. After an awesome team meeting, all 10 techs grab their kits before heading to the show. Here's mine!
3:50 p.m. Miss Pop and I sneak in a photo before the backstage work begins.
4:35 p.m. To carry the tips backstage, the strip of press-on tips is wrapped around my arm so I can use both hands to apply them. 
6:12 p.m. Before applying the tips, I sanitize the model's hands, remove any lacquer and dehydrate the nail  plate. Loose glitter on the model's hands or arms is removed with hand wipes and tape.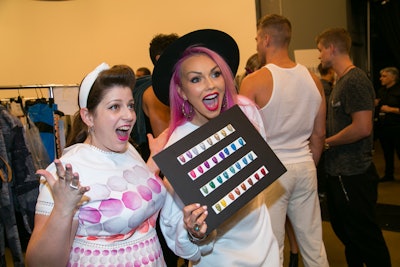 7:06 p.m. Celebrities and influencers share backstage with the beauty pros. (That's Kandee Johnson with Miss Pop!)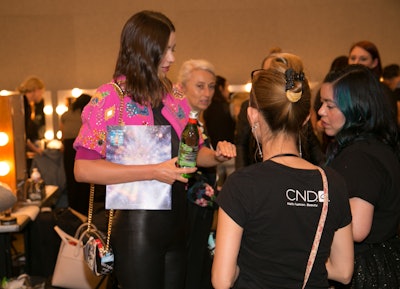 7:27 p.m. Briefing model Miranda Kerr on the nail look. (Pinch me!)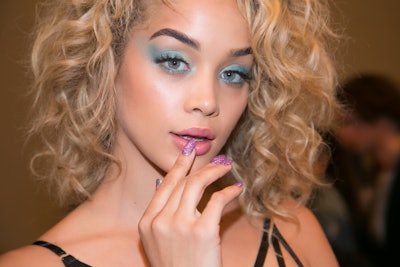 7:38 p.m. A close-up of the final look.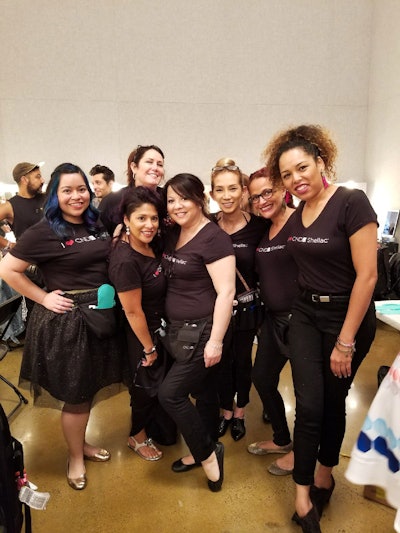 7:50 p.m. Posing for a team shot after every model's mani and pedi is finished. (Whew!)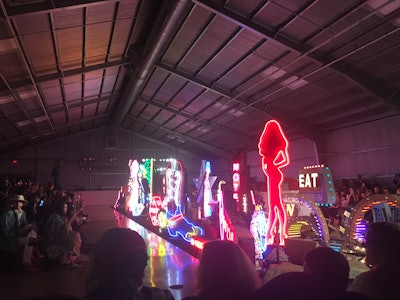 7:57 p.m. My view of the runway, complete with Las Vegas-inspired neon signs.
9:17 p.m. The model I worked on walks the runway.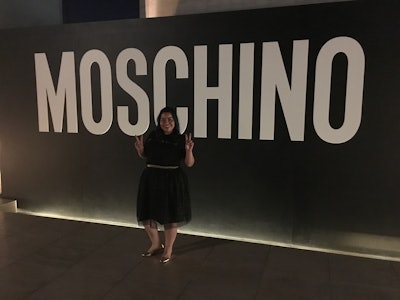 9:50 p.m. That's a wrap! 
What are your thoughts on the sparkly glitter nails for Moschino Resort 2018? Let us know in the comments below!
-Sigourney Nuñez
This article was first published in the September 2017 issue of NAILPRO.
[Images: Courtesy of Frazer Harrison/Getty Images Entertainment, CND, Sigourney Nuñez
READ MORE:
Miss Pop, CND Create 32 Custom Glitter Shades for Moschino Resort 2018