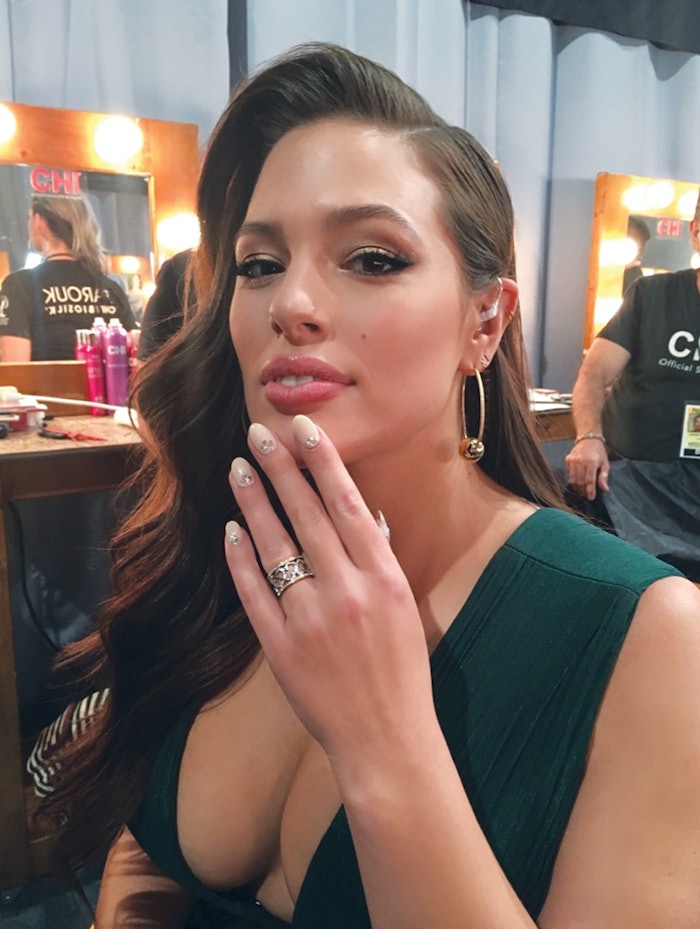 Ashley Graham isn't afraid to take chances, whether she's speaking out against stereotypes in the fashion industry or donning of-the-moment tip couture, thanks to long-time manicurist Mar y Sol Inzerillo. The pair met during a Harper's Bazaar photo shoot in 2013 where Inzerillo, who has also has also worked with Gigi Hadid, Cara Delevingne and Oprah Winfrey, introduced Graham to the world of hand-painted nail art. "The first look I created for Ashley was a red nail with a beige half moon," says the New York-based nail tech, known professionally as Mar y Soul.
Today, Inzerillo works with Graham on a weekly basis, creating looks for red carpet events and magazine photo shoots, as well as the cover of Graham's memoir A New Model, which debuted in May. "I've done Ashley's nails at her house, in a car and even in a motor home on the set of the reality series 'America's Next Top Model,'" says Inzerillo. Since the duo work together often, Inzerillo makes sure to keep the model's favorite products on hand at all times.
"We've been using a lot of Red Carpet Manicure gel polish and OPI Infinite Shine lately," she says, adding that Graham also likes Essie, Kiss Products, Sephora Formula X and Bio Sculpture Gel. While Inzerillo says Graham is typically easy-going when it comes to her nails, planning a red carpet look requires more preparation. "After I speak to her stylist, Ashley lets me come up with the nail looks. I draw them for her or show her the colors," Inzerillo says, noting that sometimes she only has an hour or two to complete a design.
No matter how long or short the collaborative process may be, Inzerillo finds that the best part about working with Graham is that the two have developed a bond that goes beyond the typical tech-client relationship. Says Inzerillo, "I'm so lucky to have a friend with such a kind spirit who also loves getting her nails done!"
—Taylor Foley
This article was originally published in the September 2017 issue of NAILPRO Magazine.