Mothers are often our first mentors, confidantes and friends. For many techs, mom was also the one who introduced you to the world of beauty and encouraged you to follow your dream of becoming a nail professional. In celebration of Mother's Day, 10 nail pros pay tribute to the special ladies in their lives by sharing stories of how their mothers (and grandmothers!) helped shape their careers.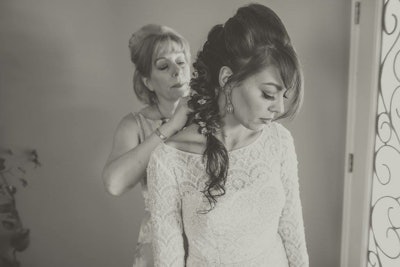 "My grandmother was quite a fancy lady, always flourishing beautifully manicured hands, and that's where I got my love for the art of painting nails. But it's my mom, Dawn White, who encouraged me to join the industry. I'd been working at an elementary school and loved being with the kids, but I felt frustrated because I had no outlet for my creativity. My mom suggested I take a nail course, then served as a hand model once a week so I could hit my required number of sets. This year was big for me: I got married and opened my salon. She helped me purchase product and equipment, then stood right by my side as I turned into a crazy lady trying to hang wallpaper. I don't think anyone else could have tolerated me in that state."
—Deanna White Stelmaschuk (pictured, above), owner of The Soho Studio, Fairview, Canada
"My mother, Nancy Hauk Creek, is a military mom of four boys, business owner, nutritionist and my biggest professional influence. I was a creative kid, so she suggested I go to cosmetology school, then paid my tuition and let me practice on her hands while I was learning. It would take me nearly three hours to complete a manicure, during which time I almost always cut her with my file, yet she always said, 'My nails couldn't look better.' That lit a fire in me to be the best, so I became a competition champion."
—John Hauk, two-time NAILPRO Team Cup champion and owner of Royalty Beauty, Dayton, OH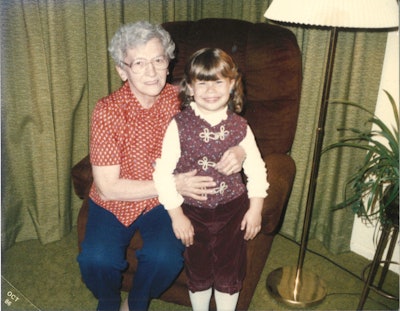 "My mother passed away when I was a baby, so I was raised by my dad and his mom, Irene Kandalec. She played a huge role in my life. I was 12 years old when she passed, and already obsessed with nails. I remember what I was doing the morning I got that sad news: covering my painted pinky in a mound of tiny crystals. At my grandmother's wake, I picked some of them off my finger and placed them beside her, promising in that moment that I'd find a way to turn my passion into a lucrative full-time career."
—Julie Kandalec (pictured, above), celebrity manicurist and Paintbox creative director, New York City
"My mother, Doris Hodges, was in the beauty biz before she started having kids. She taught me how to paint nails and to leave the moons unpolished by swirling my brush in a '7' motion with a curved top across the moon, then going down three strokes to cover the remaining nail. I later went to college for business and accounting, but by age 38 I felt burned out, so I quit and started beauty school at night. My mom passed away when I was in my early twenties, without getting the chance to see me follow in her career footsteps. My few photos of us together were lost when Hurricane Wilma flooded my home—but I still have her original shears and Marcel curling iron, so I often feel like she's still with me."
—Karen Hodges, owner of Morning Glory Beauty, Fort Myers, FL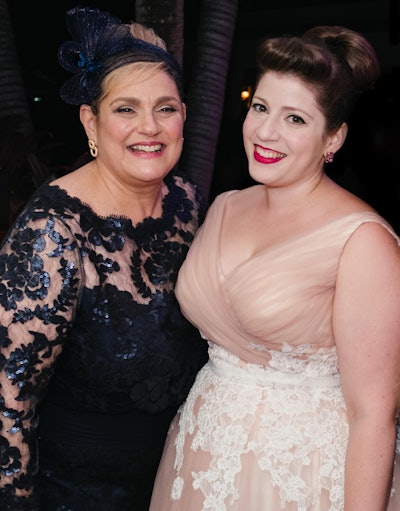 "Mom Pop is an incredibly chic lady. She worked as a stylist, always sporting colorful outfits with heels, regardless of where we were going. As a kid I loved keeping her company at the nail salon. I'd arrange the lacquers in rainbow order and raptly watch the manicurists paint. When she let me pick out my own Tinkerbell polish, I was so excited I ran around the house clutching the little bottle—then dropped it in the kitchen and watched it permanently stain our floor. To my surprise, she didn't punish me, but rather bought me a new one. Today, whenever I go home to visit my family, my mom has a new design request. She's my most demanding client."
—Miss Pop (pictured, above), editorial nail artist and CND creative ambassador, New York City
"My mom, Teresa Spitzer, still works as a nail tech. She taught me all I know about the business, and she was so excited when I decided to make it my career. While I was in nail school, my mom let me spend hours practicing acrylics on her, then showed me little tricks and tips to help perfect each tip. We've worked together in the same salon for four years and every day is fun. It's amazing to have a great role model I can turn to for advice."
—Marielle Marie Spitzer, nail technician at Nail-issimo! Salon and Spa, Billings, MT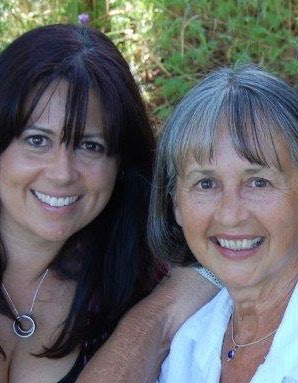 "My mom, Memory Harris, supported my nail passion through every phase. When I was in high school, she bought me an acrylic kit so I could start learning. After I had my son, Jarrett, and got tired of working retail, she championed my idea of going back to school for a nail license. She provided financial support when it came time to open my salon, and took care of my two young boys when I began competing. I can't begin to express my appreciation for all she does for me and my kids."
—Allie Baker (pictured, above), owner of Nail It! salon and EzFlow global brand ambassador, Central Point, OR
"I opened my first business when I was 18 and my mom, Kathleen Putinas, was instrumental to my success at that young age. Plus, she's always lent moral support. No matter how funky my nail test-designs got, she'd look at her hands and say, 'I love them. They're beautiful.' She worked with me at my current salon for 12 years, helping manage the business. Clients loved her! She remembered details of their lives and made each one feel special. People still ask about her, even though she retired three years ago."
—Somer Adams, owner of Labella Salon, East Windsor, CT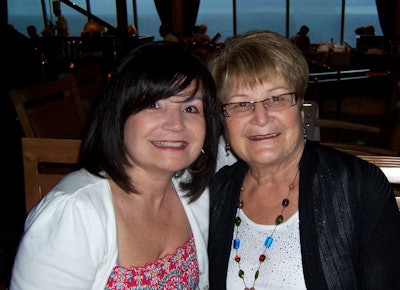 "My mom Lynn Bailey would have loved for me to mimic her lead and become a teacher, yet she never brushed off my dreams of a career in cosmetology. She supported all my crazy, artsy notions, and was a solid influence—both emotionally and financially—when I entered school to become a nail tech. She could be firm, but sometimes tough love is the best form of motivation."
—Michelle Sproat (pictured, above), owner of Inspirations Design Salon & Nail Bar and Inspiring Nails Academy, Kingsville, Canada
"When I was starting out, I didn't even know how to work an electric file, so my mom, Pamela Rowley, bought my first practice supplies. Later, when I moved to Cape Coral, Florida, and didn't know anyone, she helped me get clients by sending all the women from her office to my salon. Losing my mom to cancer six years ago was one of the hardest difficulties I've had to overcome. But I know she'd be so proud of all I've accomplished as a mentor, educator and artist after 15 years in the business."
—Shanna Rix, nail technician at ProFiles, Cape Coral, FL
Has your mom influenced your career as a nail tech? Tell us in the comments, below.
[IMAGES: Courtesy of nail techs]
This article was first published in the May 2017 issue of NAILPRO.