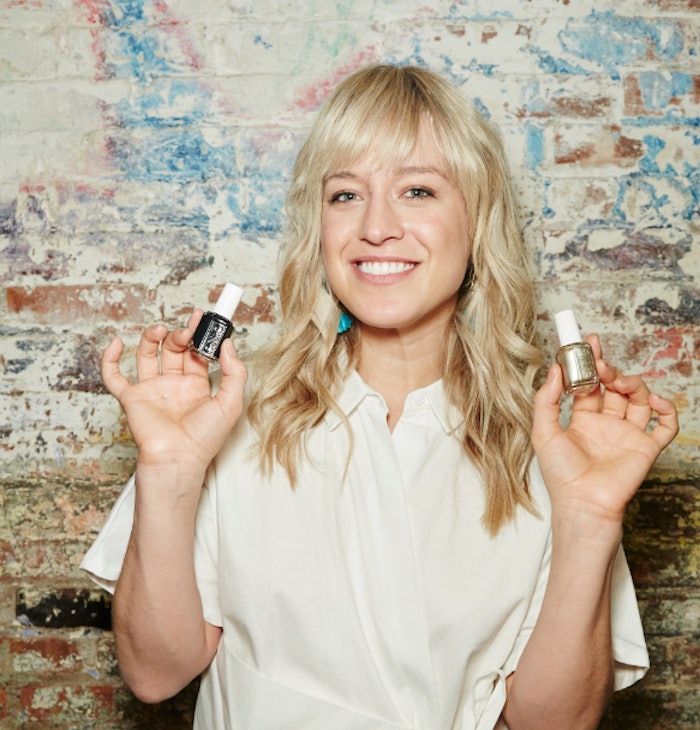 By Karie L. Frost
We're always impressed when a manicurist can keep her cool backstage at a fashion show, and Essie nail lead Rita Remark is one of those nail pros. While backstage at the Alice + Olivia Fall/Winter 2017 show, we got to know the Toronto, Canada, native's insights on how to navigate runway nails as well as her advice on whether or not it's important to know the trends that backstage beautifiers like herself push into the mainstream. (Spoiler: It doesn't hurt!)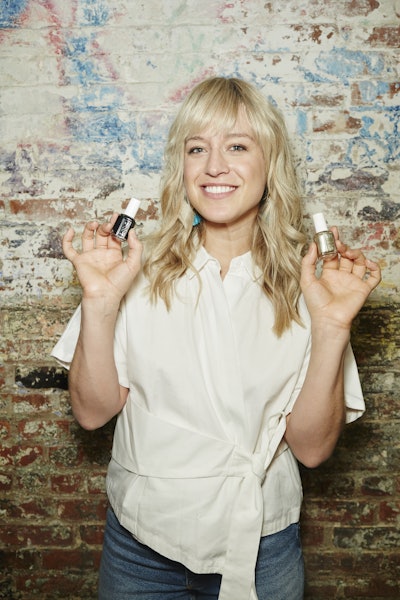 What's your go-to backstage nail product, no matter the season?
I have two: Essie Quick-e Drying Drops, without a doubt. I use Quick-e because it has a little bit of silicone in it. A) We need the polish to dry as soon as humanly possible, and B) the silicone makes it so that the nails won't catch on the clothing. If the nails are a little bit tacky and we have no choice but to put the model into dressing at that stage, with these drops it's piece of mind to know that nothing is going to get on the garment.
I also have to have my clean-up brush. I like to use a sable oval pointed acrylic brush. Mainly because mess-ups are going to happen—I guarantee they're going to happen. When you're polishing the model's nails and three hairstylists are blow-drying her hair and you or your chair gets nudged—I mean, that scenario is going to happen. So having a clean-up brush handy is important.
Speaking of mess-ups: What's your funniest story involving mess-ups from backstage?
One season we had girls come in who were running late from a previous show, and nothing is more intimidating for a manicurist than having girls show up 30 minutes before show time because you're going to be polishing her surrounded by hair and makeup. Not only that, you also have to put polish on that's going to dry super fast, so you do the thinnest layers with the most coverage. It's stressful. But this one time the models who came from the other show were wearing the exact polish that we needed! Like, tone for tone, exact. We all just walked away and it was like: mic drop. [Mimics dropping a microphone.] 
What do you look for in a manicurist when you choose your backstage team members?
I come from Toronto so I didn't know a lot of technicians based in New York in the beginning. It became a lot of trial and error for me the first few seasons. That being said: I look for people who know how to hustle and who know how to do precise manicures. You can be a spectacular salon or session manicurist, but that doesn't necessarily translate to being a good manicurist for backstage because it's just a whole other beast. I look for confidence as well. It's not easy all the time when a model is surrounded by hairstylists to walk up to them and say, "Hey, you have to make room for me." I just need someone who's straightforward, knows her position and is a go-getter.
How important do you think it is for salon manicurists to keep on top of nail trends from the runways?
I can only speak from my own experience, but what I can say to that is: You have to know your demographic. If your clientele doesn't care about trends, I'm not going to tell you that you should. However, me knowing trends, understanding the nail industry and being aware of what is walking down the runway, red carpet and street, and what's in magazines—all of that is what got me in this position today. I would have clients who work for magazines and I'd be able to talk to them about the nail look that walked the runway at Alexander Wang or the nail art at Chanel, and we'd reminisce together and that is what got me the respect of peers and people who needed to hire a manicurist for photo shoots. Being on top of trends is what got me here. It doesn't hurt.
RELATED: Beauty File: Interview With Nail Artist Rita Remark
[Image: Courtesy of Essie]