At Baja East, the atmosphere felt much like that of a party than a presentation, where the edgy clothes evoked the vibes of punk rock and complete individuality. With a diverse cast of models including Coco Rocha, Sara Sampaio and Winnie Harlow, individuality was at its best and the nails were no exception.
For the nails look, nail artist Naomi Yasuda worked with Voesh New York, who brought Collagen Gloves and Socks backstage for waterless manicures and pedicures. The gloves and socks allowed models to prep their feet with the all-included treatments while Yasuda and her team of manicurists worked on the final look.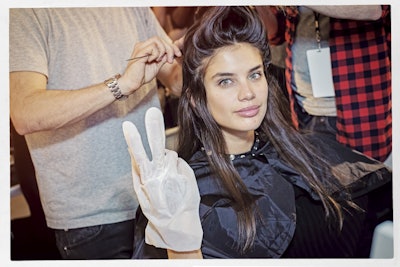 "It's going to be a party and presentation, so I wanted to have fun with the nails," Yasuda shared in a press release.
RELATED: How To Treat Feet With Voesh Pedi In A Box
With six different nail styles including metallic colors and fringe, Yasuda kept with the theme of the collection in a party. The simpler looks included gold and silver chrome nails, while embellished nails had black and gold metallic strips with the Baja East logo embossed on top, as well as teal and pink nails with beaded fringe hanging off of the tips. 
What do you think of Baja East's party-inspired nails? Let us know in the comments below and then read more NYFW coverage.