When offering a full-treatment service at the salon, efficiency is key for the customer's experience. Voesh has created its Collagen Gloves and Collagen Socks to create a fuss-free, hydrating treatment that will keep hands and feet healthy without the need of water or a tub.
The Voesh Collagen Gloves allow for multi-tasking with its all-in-one solution. Prefilled with collagen and shea butter, these also feature perforated tips to tear off to provide the customer with a manicure.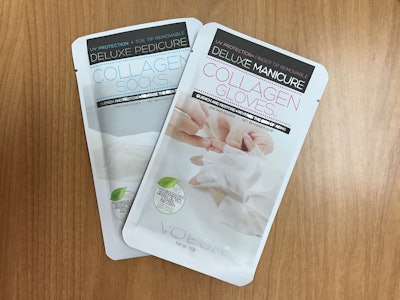 RELATED: HOW TO TREAT FEET WITH VOESH PEDI IN A BOX
The Collagen Socks include the same collagen and shea butter, providing the necessities for healthy feet. The single-use socks also have active ingredients to both relax and soften feet.
Both the gloves and the socks are made of biodegradable, dual-layered material that are 99% UV protective, making them safe to go under the UV or LED lights. Make the salon more efficient as the Voesh Collagen Gloves and Socks take the of additional cuticle oil and moisturizer.
[Image: Dale Arden Chong]