Offer a nude and glitter design to your client who loves to sparkle. Follow these step by Yuki Sato of MARS the Salon in West Hollywood, Calif. for the how-to.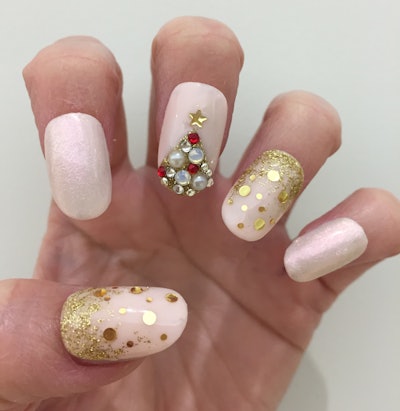 Apply gel polish base coat. Cure.
Apply pink gel polish on all the nails. Cure.
Apply a gold glitter fade on the thumb and ring nails starting from the cuticle area. Cure.
 Apply random gold chunky glitter pieces to add to the glitter fade. Cure.
Paint a triangle in gold glitter color on middle fingernail. Cure.
 Adhere crystals inside the painted triangle to create an embellished Christmas tree.
Apply sparkle pink glitter gel to the rest of the nails. Cure.
Apply top coat and cure.
[Image: Courtesy of MARS the Salon]