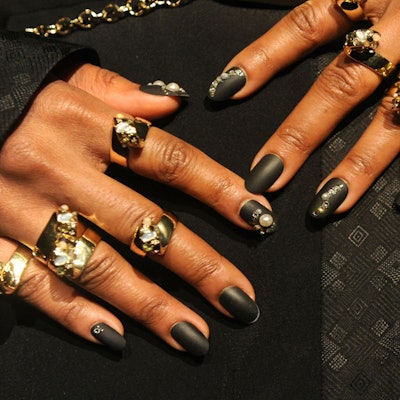 For the Lulu Frost Fall/Winter 2016 Frequency Collection, designer Lisa Salzer found inspiration in the wonders of outer-space and the expansive power of the human mind. The collection alludes to the wave-like structures found in cosmos and the equipment used in space exploration, giving this look a polished and bold feel. The Sequence group features golden, undulating designs studded with precious and semi-precious stones, the Cosmic series celebrates the fascination with stars using various silhouettes, and the Infinite group mimics stardust scattered across the sky utilizing swirling glass pearls and glinting crystal.
Using a matte black base and imPRESS Gel Manicure in Text Appeal, manicurist Gina Edwards for KISS Products, Inc. recreated the beauty of the night sky. Edwards embellished the nail with a variation of pearls and crystals to mimic both stars and the spiraling of galactic formation. This contrasting design leaves your nails edgy and glamorous.
The Look: Galaxy Nails
Select your size of imPRESS Gel Manicure in Text Appeal
Use a fine our course grit nail file or buffer to buff down the imPRESS in order to achieve a matte look
Shape the nails into an oval tip
To create the "planets" use 2 large pearls and place one at the top left corner and one diagonally across on the right corner of the nail
Take KISS Real Crystals and pull off the half circular crystal and place half way around the pearl
Place a strand of smaller crystals at the top of the large pearl and add single smaller pearls or crystals to finish the orbit
Lastly, for the constellation, take 3-6 stones from KISS Bejeweled and a small pearl and link together
-Allegra White
Images: KISS Products, Inc.