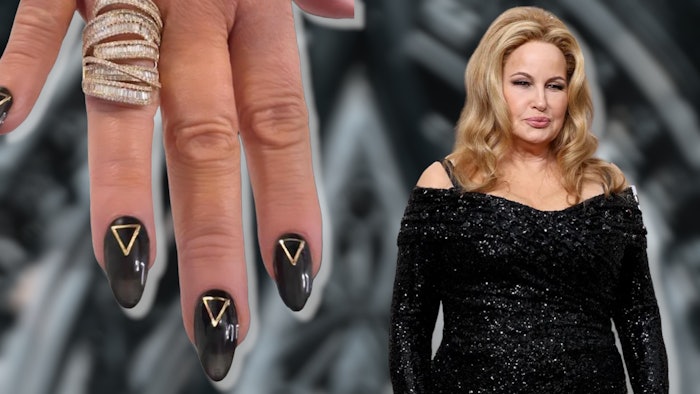 Golden Globe winner Jennifer Coolidge stole the show last night with her hilarious acceptance speech — and her gorgeous nails! 
Before winning the Golden Globe for Best Performance by an Actress in a Supporting Role in a Series, Limited Series or Motion Picture Made for Television for her role in "The White Lotus," Jennifer Coolidge showed off her gothic nail look on the red carpet.
Coolidge's nails, which featured gold triangle embellishments, were created by nail artist Vanessa Sanchez McCullough using products from CND.
"Jennifer wore a beautiful black Dolce & Gabana dress with a lot of shimmer. I wanted to contrast the shimmer in the dress a bit by using a gold embellishment that didn't compete with it," McCullough said in an Instagram post. "The gold triangle was the prefect touch. The length of her nails and the positioning of the triangles complimented her hands perfectly." 
You can get the how-to for Coolidge's gothic nail look below.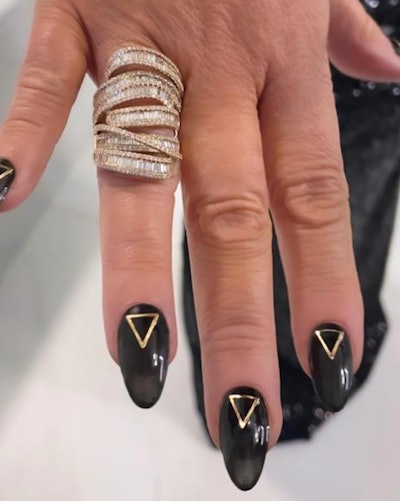 How-To: 
1. Begin with CND PLEXIGEL Bonder.
2. Use CND Future Forms to sculpt nails.
3. Apply two coats of CND PLEXIGEL Builder to build desired length.
4. Apply two coats of CND Shellac Gel Polish in Black Pool.
5. Finish with CND Shellac DURAFORCE Top Coat, securing a gold triangle embellishment in the bottom center of the nails before applying a second layer of the top coat.
6. Moisturize with CND SolarOil to condition nails and cuticles.
Follow Nailpro on Instagram and subscribe to our free daily newsletter to receive the latest news for nail professionals.