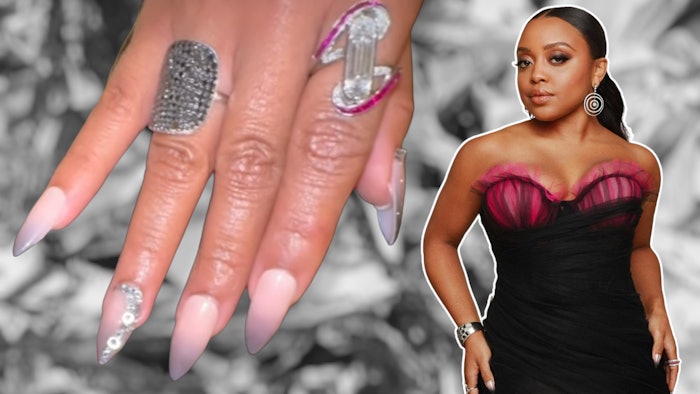 Nothing about these nails are elementary
"Abbott Elementary" creator, star and Golden Globe winner Quinta Brunson's nails sparkled on the Golden Globes 2023 red carpet.
Celebrity manicurist Temeka Jackson created a dazzling custom press-on nail set for Brunson using products from KISS Products.
"Congratulations to a beautiful soul. It's always a pleasure to work with you," Jackson said in an Instagram post, congratulating Brunson on her Golden Globe win. "The nails were shinning! I stand for all of the African American nail techs who dream." 
You can see how Jackson created this glam mani below.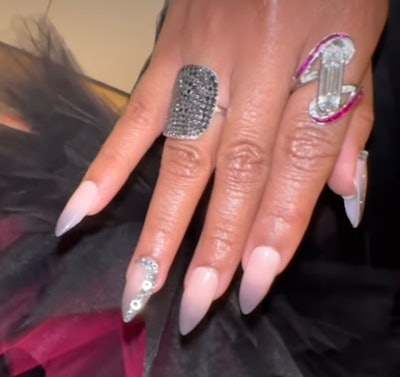 Get Quinta Brunson's Glam Mani 
Jackson shared on Instagram how she created the the nail look for the first-time Golden Globe winner. 
Start with KISS Masterpiece nails in Royal Gardens in size XL. 
Reshape nails from coffin size to medium pointy. 
Add crystal embellishments to enhance the ombré. 
Jackson also created Brunson's mani for the 2022 Primetime Emmy Awards, where she took home an award for Outstanding Writing for a Comedy Series.
Follow Nailpro on Instagram and subscribe to our free daily newsletter to receive the latest news for nail professionals.